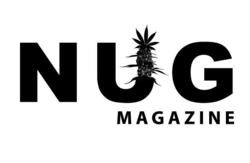 San Diego, CA (PRWEB) July 08, 2011
This July marks the two year anniversary for NUG Magazine -- San Diego's original cannabis and culture publication. It is a celebration of the accomplishment of making a print publication both relevant and solvent. NUG will be celebrating in a big way at SPIN Nightclub on Friday, July 29, 2011. The 2 Year Anniversary Party is for NUG staff, community partners, over 20 contributors, all of NUG's readers and especially advertisers.
"Many valuable and positive things have actualized for NUG Magazine during the past two years," says Ben G. Rowin. "We've been calculated in our efforts to have a monthly local San Diego publication that's accompanied by a eye-popping yet navigable website. It all comes together because of the dynamic crew and contributors behind the scenes. The NUG Magazine blueprint, however, continues to change and grow. Part of our business model has included the launch of record label NUG Records, NUG Glass, NUG Radio, and NUG clothing, which features fashionably comfortable hemp based products. NUG Magazine has remained very active in the community as well, having sponsored the San Diego Indie Fest, the San Diego Food Drive, and for the second consecutive year, the San Diego Music Awards."
The NUG Magazine story started after Prop. 215 was passed in California in 1996. Ben began researching cannabis as medicine before opting to become a patient in early 2000. Like his mother and brothers, he has always suffered from debilitating migraine headaches and has been hospitalized multiple times. Ben also suffers from a rare blood disorder that leaves his liver very vulnerable, and he cannot use prescription medication or pills as they are absorbed through the liver. This is when Ben chose to look into becoming a medical marijuana patient.
Fast forward to March 2008 when the home of Ben G. Rowin was raided. It was a life changing experience for him and his family, and the concept of NUG Magazine began to coalesce. Ben, with 15+ years in the publishing business in San Diego, had a vision for NUG Magazine to be a beacon-- a source of information for patients and advocates that shines light on the issues surrounding medical marijuana patients' rights and legalization. It is a tool that benefits a lot of aspects of our community with coverage about local visual art, performing arts, music, literature, activism, health and wellness, action sports, politics, cooking, LGBT community and other aspects of San Diego culture.
During the past two years, NUG Magazine's highlights include interview local San Diego movers and shakers including Todd Gloria, Nicole Murray Ramirez, and even some national personalities such as Margaret Cho and even Charles Manson- which was a rare interview opportunity as Manson has only done four interviews in the past ten years. NUG Magazine's "Performing Arts Portal," column written by Marc Emmelmann, Executive Director of the San Diego Performing Arts League, has helped get readers in touch with San Diego's performing arts scene. Eugene Davidovich, Chair of the San Diego Americans for Safe Access Advisory Board is also a significant contributor along with Aaron Evans, Dion Markgraaff, Tiffany Janay and many others, including "The SD OG Grower" and "The Bumbling Gardener," and "Canna Chef Kim."
2 YEAR ANNIVERSARY PARTY
The 2 Year Anniversary Party at SPIN Nightclub will showcase -- Dubstep, Reggae, Hip-hop, Turntablism, Beatboxing and House
Featured Talent Includes:
★☊: IDeaL & J-Break
★☊: OSAL8
★☊: BEEHIVE + POUND (Beatbox/Scratch Session)
★☊: DJ HEKTIK
★☊: DJ Definition
★☊: Maleko
SPIN Nightclub was a natural fit for NUG Magazine. The 3 level, 10,000 Sq. Ft. entertainment complex needs no formal introduction to NUG Magazine readers in San Diego. SPIN has an open air roof deck with views of downtown San Diego and the sound system is state of the art with 70,000 watts of real Thunderous Avalon sound. Local artist, Sean Dietrich, (whose art was featured on the July 2011 cover) will be painting on the roof deck from 10pm til midnight.
Location: SPIN Nightclub (2028 Hancock St. San Diego CA 92110)
Date/Time: Friday July 29th, 2011 - 10pm to 4am
Pre-Sale Ticket Information Available Here: http://bit.ly/iREzep
ABOUT NUG MAGAZINE:
NUG Magazine is San Diego's Original Cannabis Publication, available monthly free of charge all over San Diego County, as well as through a paid subscription service to readers all over the world.
###