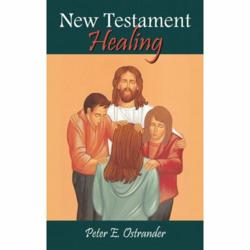 "In our world of advanced Western medicine, alternate therapies, 12-step groups, and self-help programs, many people have sought to maintain or improve their health in this life,"
Longwood, FL (PRWEB) July 09, 2011
Miraculous healing, the most profound aspect of Jesus' ministry, drew crowds and changed lives wherever He went. But what about today? Do miracles still happen? Does God still use His human vessels as agents of healing? And if so, how?
In his comprehensive new book New Testament Healing ($18.99, paperback, 978-1-61379-284-1; $28.99, hardcover, 978-1-61379-285-8), author Peter E. Ostrander peels back the layer of myth surrounding divine healing and exposes the truth: indeed God does still work miracles of healing in our world today and longs to demonstrate His healing power throughout the earth. All He needs is willing vessels.
"In our world of advanced Western medicine, alternate therapies, 12-step groups, and self-help programs, many people have sought to maintain or improve their health in this life," says Ostrander, a former vicar and former regional director for the International Order of Saint Luke the Physician, which supports the growth of Jesus' healing ministry in the church. "If you read the Gospel of Mark, about 32 percent of this wonderful narrative up to Jesus' final week on earth is about healing and miracles! Jesus and His first disciples were quite successful.
Examining the 26 New Testament healing events, New Testament Healing breaks down the important features: the words and actions of Jesus and the apostles, reasons for healing, the work of the Holy Spirit, the faith of those in need or others, and the encouragement of Jesus, as many react. The book observes three New Testament models, one contemporary model, and then examines the wider context of God's reign, prayer, and the church, providing a biblical basis for inner healing and answering important questions about healing.
Xulon Press, a division of Salem Communications, is the world's largest Christian publisher, with more than 8,000 titles published to date. Retailers may order New Testament Healing through.
###