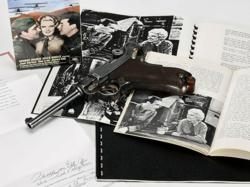 When you play back the scene frame-by-frame, you can easily make out the unique features of this rare model Luger.
Solana Beach, CA (PRWEB) July 08, 2011
The gun, a rare model German Luger, prominently appears in the now famous climatic execution scene in the iconic 1930's Jean Harlow movie Hell's Angels, which Hughes directed.
Regarded as one of the original blockbusters and one of the first films to use sound, the film's extravagant and heavily publicized production made it the most expensive film of its time. More notably, however, it introduced a young Jean Harlow to the silver screen as the original 'blonde bombshell' with the now immortal phrase "Excuse me while I slip into something more comfortable".
So pleased with the production, Hughes gave the Luger to the film's main author, legendary Hollywood screenwriter Joseph March, as a present after the movie wrapped. The gun was later sold by March's estate and is now in possession of Craig Gottlieb, owner of Craig Gottlieb Militaria Auctions in Solana Beach, CA.
Gottlieb places a conservative estimate of $50,000 on the gun. He notes that a pistol owned by gangster Al Capone recently sold for over $100,000 at an auction in London.
The provenance that comes with the Luger is excellent. Included with the gun is a letter from the screenwriter's family that states that Hughes gave it to March in the 1930s "as a token of appreciation" following completion of the film.
According to the auctioneer, the most compelling provenance is the movie itself. "When you play back the scene frame-by-frame, you can easily make out the unique features of this rare model Luger."
Gottlieb points to the slender barrel, unique grip safety, and the shape of other features, unique only to this rare pistol. "If Hughes had used a regular model Luger it would be harder to tell if this was really the same gun."
For more information go to http://cgmauctions.com
Press Inquiries: press(at)craiggottlieb(dot).com
###