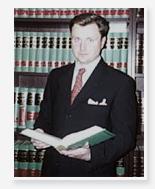 Cleveland, OH (PRWEB) July 09, 2011
Cleveland, OH attorney Gregory S. Robey of Robey & Robey has been named by Ohio Super Lawyers magazine as one of the top attorneys in Ohio for 2011. Only five percent of the lawyers in the state are named by Super Lawyers.
Gregory S. Robey has 20 years of experience and was admitted to practice in Virginia in 1991. Admitted to the United States Supreme Court in 2001, Gregory Scott Robey is a Cleveland criminal defense attorney who fights for you. In particular, he has experience defending those charged with local and federal drug crimes. From possession, cultivation and trafficking, to prescription fraud and asset forfeiture, this Cleveland criminal attorney will devise a solid defense strategy. When you are in trouble with the law, you want Gregory Scott Robey's criminal lawyers in Ohio on your side.
The selections for this esteemed list are made by the research team at Super Lawyers, which is a service of the Thomson Reuters, Legal division based in Eagan, MN. Each year, the research team at Super Lawyers undertakes a rigorous multi-phase selection process that includes a statewide survey of lawyers, independent evaluation of candidates by the attorney-led research staff, a peer review of candidates by practice area, and a good-standing and disciplinary check.
Thomson Reuters, Legal publishes Super Lawyers magazines across the country. In addition to the magazines, Thomson Reuters, Legal publishes newspaper inserts and magazine special sections devoted to Super Lawyers. In 2010, Super Lawyers reached more than 15 million readers.
Super Lawyers was first published in 1991 by Law & Politics and was acquired by Thomson Reuters, Legal in February 2010. Thomson Reuters is the world's leading source of intelligent information for businesses and professionals. Super Lawyers can be found online at superlawyers.com where lawyers can be searched by practice area and location.
About the Firm
At the law offices of Robey & Robey, skilled Ohio criminal defense attorneys put their years of experience to work for you. Whether you are facing a drug or felony charge, need to defend a son or daughter charged with a juvenile crime, or require a lawyer for a weapons or vehicle charge, you will not find a more responsive and dedicated criminal defense attorney in Cleveland, Ohio. Attorneys at the law firm of Robey & Robey offer legal counsel primarily in the following areas:

Drug offenses
Larceny
Domestic violence
Embezzlement
Call 888-366-6408 to engage the experienced, savvy lawyers at the offices of Gregory Scott Robey, or fill out the online form. All information about your case is taken very seriously and kept strictly confidential.
###