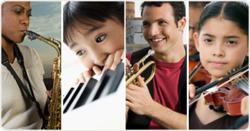 "The most important advice I give is to parents who are trying to find a quality instrument for their kids while still keeping an eye on the budget." --Sue Shockey, Woodwind & Brasswind Senior Technician
South Bend, IN (PRWEB) July 09, 2011
Returning to school with the right music equipment is going to be just a bit easier this year thanks to The Woodwind & Brasswind web-site's helpful resources for budding musicians. An incredibly wide selection of musical instruments, accessories, and books is available to meet music students' needs during the July-August 2011 academic buying season. Expert advice and buying information will make parents' purchasing decisions easier.
Sometimes overlooked while preparing for a return to your school music program, are supplies like woodwind reeds, brass mouthpieces, valve oil, music stands, and music books. These items aren't necessarily glamorous but are essential nonetheless. For example, just about every school musician, instructor, or band director can use additional study books, and young musicians often find just the tips they need to take their woodwind performance or brass performance to a higher level with an instrument method book.
The Woodwind & Brasswinds' enormous—and broad—selection includes everything a young musician needs, from brand-name instruments to accessories to music books. A staff filled with performing musicians is available to help make sorting through the enormous selection of online music gear easy—even for novices.
Parents anxious to get their music students back to school in style can access The Woodwind & Brasswind's Article Library as well as buying guides for woodwind, brass, and string instruments —and even a YouTube page featuring demonstrations of wind instruments. Each of these aids helps to match music students with the right instrument for their needs, whether their skills are advanced, intermediate, or just developing.
Helpful buying guides are available for purchasers of woodwind instruments like flutes, clarinets, saxophones, oboes, and bassoons. Stringed instrument guides help with the selection of the best violin, viola, cello, or upright bass for an academic music program. For music students who want to get a great start in the new school year, The Woodwind & Brasswind also offers downloadable charts to help select the correct violin size for the student, the right woodwind reed or brass mouthpiece, or to compare the features available on several instruments by brand and side-by-side.
The Woodwind & Brasswind YouTube page offers videos highlighting student instruments available for about the same price as a seasons rental. Sue Shockey, The Woodwind & Brasswind's Senior Technician, demonstrates a student-level clarinet, alto saxophone, trumpet, and a flute in separate videos. Shockey says, "I believe that the most important advice I give is to parents who are trying to find a quality instrument for their kids while still keeping an eye on the budget."
In addition, academic music instructors have selected instruments in each category that represent true values for students. The mouthpiece, string, reed, and bow guides prepared by The Woodwind & Brasswind's expert staff of professional musicians also offer music students advice about the best buys from the perspective of real gigging musicians who are graduates of music programs themselves.
The Woodwind & Brasswind's Director of Marketing, Kurt Witt says "mid-July to mid-August is when most students purchase their instruments and accessories, so now is the best time for both parents and students to get the information that will help them make the best choices."
About The Woodwind & Brasswind:
A music instructor wanting to supplement his teaching income founded The Woodwind & Brasswind in 1978. Headquartered today in South Bend, Indiana, The Woodwind & Brasswind's facilities include the Band & Orchestra Superstore, a robust music equipment catalog business, a thriving educational and institutional division, and a growing e-commerce website run by a dedicated staff of specialists with the best selection of band and orchestra instruments at the fairest prices on the internet.
###