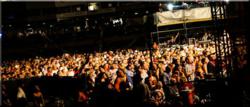 Salt River Pima-Maricopa Indian Community (PRWEB) July 07, 2011
Mother nature became an unexpected attendee during the Independence Day Music Festival at Salt River Fields at Talking Stick on July 3rd. A cloud of dust and spectacular lightning display forced the show to be suspended for approximately 40 minutes but did not hold fans back from creating the largest attended event in the history of Salt River Fields at Talking Stick, the newly built Spring Training home for the Arizona Diamondbacks and Colorado Rockies.
The 12,845 tickets eclipsed the highest attended single event by over 300 people.
Country musician and star of NBC's new hit TV series The Voice, Blake Shelton, headlined the show which included a set full of hits, hilarious country stories and occasional jokes which kept fans with a smile on their face all evening. Joining Shelton was FOX's own American Idols, Casey James and Crystal Bowersox. Following the concert fans enjoyed the Valley's largest July 3rd fireworks shows.
Blake Shelton, is one of the "most versatile of contemporary country singers" (The New York Times) and is the reigning CMA Male Vocalist of the Year. The country superstar's latest single "Honey Bee" is off his soon to be released album, Red River Blue set for release on July 12. The single follows Shelton's three consecutive No. 1 hits: "Who Are You When I'm Not Looking," "All About Tonight" and "Hillbilly Bone." Shelton's latest CD, LOADED: The Best of Blake Shelton debuted in the Top 10 on the country charts, adding Shelton into an elite group of artists who have charted three records in one year (among those are Garth Brooks, Kenny Chesney and Alan Jackson). Shelton has eight No. 1 hits and has not had a single peak outside the Top Ten since 2007.
About Salt River Fields at Talking Sticks
After experiencing the most successful Spring Training season in MLB history, with 359,308 fans coming through the gates to watch the Arizona Diamondbacks and Colorado Rockies, Salt River Fields is excited to break into the concert scene and provide fans a unique opportunity to see a show in the East Valley.
Salt River Fields at Talking Stick is located on a 140-acre site near the Pima-Loop 101 Freeway and Indian Bend Road. It is the first Major League Baseball Spring Training facility built on Native American land. Surrounded by some of the most beautiful views in all of baseball, the complex is owned by the Salt River Pima-Maricopa Indian Community (SRPMIC) and is the newest entertainment venue included in the "Talking Stick" brand as it joins Talking Stick Golf Club and Talking Stick Resort.
For more information about future events at Salt River Fields, please call 480.270.5000 or go to saltriverfields.com.
###