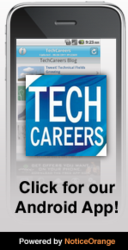 Find a job using TechCareers free Android app
Waco, TX (PRWEB) July 12, 2011
Trying to decide on a particular technical field---anything from wind energy to avionics to biomedical equipment technology---can be taxing, but information is only a click away on an Android phone, using TSTC Publishing's new, free TechCareers app.
The TechCareers app pushes the latest breaking news out on more than 40 career-specific news feeds as well as offering information on careers offered by Texas State Technical College Waco plus some extra ones like wind energy. The app also offers updates from its TechCareers blog and Twitter feed.
"This app allows you to push one button and get job information for more than 40 technical careers," says Publisher Mark Long at TSTC Publishing, who developed the new app in conjunction with Notice Software in Austin, Texas.
The app also is helpful for parents who want to know what this "radiation protection technology" thing is all about, high school career counselors who want to make sure they're not passing on last week's stats and figures, college technical program recruiters who need to be able to talk the talk with prospective students and instructors who want to stay current in their fields.
TSTC Publishing also has submitted an iPhone version of the app to Apple and will provide an update as soon as it is available.
TSTC Publishing, established in 2004 as the publishing arm of Texas State Technical College, offers authors throughout the nation the opportunity to initiate and participate in a variety of book development projects. Of course, in the twenty-first century, a book is no longer "just" a book, so TSTC Publishing projects now include such ancillary products as instructor guides, student workbooks, CD-ROMs, DVDs, ebooks and companion websites. In addition to offering editorial help and guidance to authors, assistance also is available in the areas of materials production, distribution and sales.
For information about TSTC Publishing and its new TechCareers app, contact Sheila Boggess at 254-867-3210 or sheila.boggess(at)tstc(dot)edu.
# # #