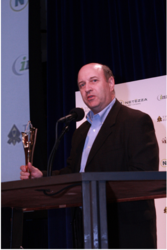 Chicago, IL (PRWEB) July 11, 2011
Acquity Group, a world-leading multi-channel commerce and digital marketing company, announced today that it has received two Stevie Awards for the redesign of RadioFlyer.com and the development of the Allstate Teen Driver website.
The Stevie Awards honor the achievements and positive contributions of organizations and business people worldwide. More than 200 executives across the country participated in the judging process to determine the finalists and Stevie Award winners. This year, more than 2,800 entries submitted across industries.
"Our goal was to develop vibrant, interactive, highly engaging digital experiences for the customers of these well-respected brands," said Chris Dalton, Acquity Group CEO. "We're honored to receive two Stevie Awards as recognition of that success."
The Award-Winning Projects:
Radio Flyer
Acquity Group redesigned RadioFlyer.com and implemented eCommerce functionality, allowing consumers to purchase merchandise from a full product catalog online. The new site also includes a number of tools and features that enable the company to promote merchandise and communicate in a more dynamic way.
Allstate
Acquity Group and Allstate re-launched the Allstate Teen Driver website, enabling the company to better connect with a 12-19 year old demographic. The new site offers teen-friendly language and design, along with videos, games, and interactive simulations, to engage its audience and promote its message: the importance of safe driving.
Acquity Group was also named a Stevie Finalist in the retail category for the website redesign of BootBarn.com, the world's largest western wear retailer.
Details about The American Business Awards and the lists of honorees in all categories are available at http://www.stevieawards.com/aba.
About The Stevie Awards
Stevie Awards are conferred in four programs: The American Business Awards, The International Business Awards, the Stevie Awards for Women in Business, and the Stevie Awards for Sales & Customer Service. Honoring companies of all types and sizes and the people behind them, the Stevies recognize outstanding performances in the workplace worldwide.
About Acquity Group
Acquity Group is the world's leading multi-channel commerce and digital marketing company, creating award-winning digital experiences for global brands. Our multi-disciplinary approach brings together strategy, design, and technology to create brand-unique experiences that build unbreakable customer relationships. Acquity Group is headquartered in Chicago, with offices across the U.S. To define a unique perspective for your business, contact Acquity Group at http://www.acquitygroup.com.
###