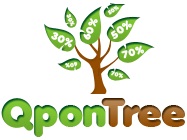 We know from experience that today's customer wants a deal and wants the best price imaginable
Hopewell Junction, NY (PRWEB) July 08, 2011
Five siblings from a small town in NY are competing in the daily deal market with QponTree.com. This daily deal website features only online companies. This is a huge leap for daily deal websites everywhere because now you don't have to live in the urban, chic, most trendy city in the country to participate.
No longer will people who live in Eustis, Nebraska or Chinook, Montana not be able to participate in the latest obsession for deal driven customers. The five siblings from Hopewell Junction, NY have launched QponTree.com which is a website that only features online businesses. You can sit at home in your pajamas at 3 am in the most rural town in America and take advantage of the same deal that your urbanite cousin in Los Angeles has just purchased.
This is the third business venture that the Ackerman siblings have started. Tyler Ackerman, 25 who is the CEO of QponTree, Inc as well as their starter company TheRTAStore.com which was founded in 2009 and with the help of his brother Casey, 23 and three sisters Rachael 35, Samantha 28, Kelsey 26 they have taken their business from $110,000 in sales in 2009 to $2,200,000 in 2010 and currently on track to surpass the $3,000,000 mark in 2011.
"We run our business off of honesty, integrity and great customer service," says Ackerman, "even though we are on the World Wide Web we treat each customer as if they are our only customer. We will e-mail customers back at 2 am and even respond on Christmas Day."
When asked how these 5 brothers and sisters went from TheRTAStore (which sells kitchen cabinets) to QponTree.com, the response seems to make perfect sense. "We know from experience that today's customer wants a deal and wants the best price imaginable," says Ackerman, "We took our experience with customers and promotions and decided to create one site that caters exactly to what the customer wants."
They wanted to be a little different, stand out and reach the entire country instead of specific high populated areas which is when QponTree first started to formulate. "We thought what better way to reach out to every customer in every market then to only feature online companies," says Ackerman "the only requirement you need is a computer!"
It was also very important for them to reach out to small, unknown businesses to try to help them get more recognition. "We are a small business too, so we know how hard it is with all of the large companies and websites out there", Says Ackerman "We wanted to be able to give every company a chance to gain customers while at the same time giving customers great deals!"
About QponTree.com
Founded in March, 2011 and launched in July, 2011. Tyler Ackerman is the founder and CEO. Together with his four siblings Casey Ackerman, Kelsey Ackerman, Samantha Rougeux and Rachael Payton they make up the staff at QponTree.com. QponTree, Inc is a daily deal website which features only online businesses. A new deal is featured each day ranging from 50%-90% off towards the featured businesses website. All deals can be redeemed online so you can live anywhere in the country and still take advantage of the great deals.
###