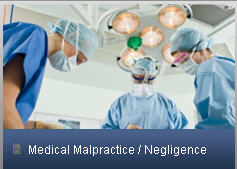 We've re-launched our website with an understanding that our clients' needs and interest are the main priority.
Washington, DC (PRWEB) July 12, 2011
Washington, DC law firm of Michael M. Wilson, M.D., J.D. and Associates recently launched their website, providing a valuable online legal resource to current and potential clients.
The site offers helpful information to remove some of the fear and uncertainty from the legal process, including basic information on Washington, DC medical malpractice laws.
Website visitors learn how the experienced malpractice attorneys at the Law Office of Michael M. Wilson, M.D., J.D. and Associates can assist them with their legal issue. The firm has developed a reputation for maintaining high ethical standards while aggressively representing clients throughout Washington, DC in medical malpractice legal matters.
The law firm's principal malpractice attorney, Michael Wilson, is both an attorney and a physician, with legal and medical degrees from Georgetown University. Dr. Wilson is uniquely qualified to aggressively pursue Washington, D.C. and Baltimore medical malpractice claims for the benefit of his clients.
When generalized personal injury firms pursue Washington, D.C. malpractice claims for their clients, they must rely on medical knowledge supplied by external experts. Dr. Wilson has the firsthand medical knowledge needed to address technical nuances that can be lost by attorneys who do not have direct medical experience and training. He also writes a medical malpractice blog as a service to the legal and medical communities of the Washington, D.C. area.
Having a malpractice attorney who is also a physician can make a significant difference in the outcome of your case. For a free initial consultation with Dr. Wilson, call him at (202) 223-4488 or contact him online. Located in Washington, D.C., the practice regularly assists clients in the Washington, D.C. and Baltimore metro area.
###