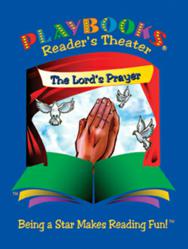 "The Lord's Prayer Playbook® effectively and creatively captures the messages of my seven sermons on the Lord's Prayer...."
Pastor Rick Warren
Saddleback Church
Lake Forest, CA (PRWEB) July 08, 2011
Playbooks, Inc., also known as Playbooks® Reader's Theater, recently launched a new addition to its library, The Lord's Prayer Playbook®, in a successful weekend introduction at Saddleback Church in Southern California.
"The Lord's Prayer Playbook® effectively and creatively captures the messages of my seven sermons on the Lord's Prayer. Its play-like presentation of a fictional story with five human and relatable characters will captivate readers of all ages and help anyone connect to the seven powerful messages of the Lord's Prayer. Every man, woman, and child can learn how the spiritual truths in this amazing prayer apply to every aspect of life," says Pastor Rick Warren, of Saddleback Church.
This Playbook® was featured as a resource for parents in Saddleback Church's parenting focused series, and next week, Playbooks® Reader's Theater will bring it to the International Christian Retail Show in Atlanta, GA, July 10-13. The popular children's book publisher aims to raise awareness of this new title for religious education. The Lord's Prayer Playbook® is ideal for families, teens and adults to read aloud together at home, and for youth and adults in a classroom or church setting. With 30 Bible references throughout the story and discussion questions and exercises, it's also ideal for Bible study groups.
The story's content is appropriate for practically all ages and is designed to be read aloud, like a play, without memorization, props or a stage. It also makes a great performance for any church service for both youth and adults. Written by reader's theater expert and Saddleback Church member, Dianna Cleveland, this reader's theater story helps readers appreciate the meaning behind this profound prayer. Five modern-day fictional characters find themselves in a crisis and realize they need to pray. As they say the Lord's Prayer together, they become vocal about their own personal worries, hurts, guilt, regrets, and uncontrollables interrupting the prayer all along the way. As they try to interpret the seven most powerful messages of the prayer together, they realize by the end they can find God's solutions to all their struggles within this simple prayer.
The Lord's Prayer Playbook® is written and presented in the unique and patented Playbook® multi-leveled and color-coded reader's theater format which is designed for reading in small interactive social groups. Each character's dialogue appears in a different color throughout the story, making it easy for each reader to identify his or her role. Roles are also written at varied reading levels so that younger or less skilled readers can read a part successfully while older or more advanced readers read more difficult text.
Playbooks, Inc., headquartered in Lake Forest, CA, has been providing fun and engaging stories for more than 10 years and is the leading provider of reader's theater materials designed for building fluency. http://www.playbooks.com
For more information on The Lord's Prayer Playbook®, please visit http://www.thelordsprayer.us.com.
About the Author
Dianna Cleveland is the founder of Playbooks, Inc. and author of numerous multi-leveled reader's theater scripts for Grades K-12. Ms. Cleveland is considered to be one of the nation's foremost experts on reader's theater with her extensive background working with teachers in developing innovative, specialized reader's theater curriculum and her work in the field through her non-profit organization, Read to Achieve, Inc. She has also trained thousands of educators across the nation in how to implement a research-based, measurable reader's theater program through workshops taught at numerous national, regional, and state educational conferences as well as school and district trainings.
###