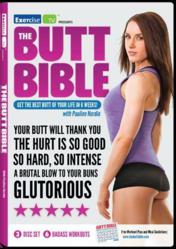 You can diet all you want, but you will become a smaller version of your fat self. Training is the best thing you can do for your body.
Los Angeles, CA (PRWEB) July 08, 2011
ExerciseTV, a division of NBCUniversal, has unleashed butt workouts from international top fitness model and personality Pauline Nordin on America's backsides. The leading digital fitness network introduces "The Butt Bible" fitness system featuring innovative butt exercises as video workouts with this tough-talking, butt-shaping Swedish bombshell from the Nordic version of "The Biggest Loser." The Butt Bible workout videos, which will are available in multiple formats including DVD, video on demand and streaming video at http://www.theButtBible.com, are supported by workout plans, meal guidelines and recipes to get the best butt of your life in 6 weeks.
"When you have a pair of nice glutes you feel like you own the world. These butt exercises will get your backside toned, and sexy, and tight - not jiggly," pledges the straight-talking Nordin. "You can diet all you want, but you will become a smaller version of your fat self. Training is the best thing you can do for your body and I am here to help with ExerciseTV and The Butt Bible."
With a background in personal training, the Swedish-born Nordin was a trainer for the Nordic version of the popular TV program "Biggest Loser," guiding both her team and country to victory. In 2006 she moved to America and introduced her first fitness system, the Fighter Diet. Overcoming severe body-image issues as a teenager to blossom into an award-winning physique through dedication, patience and willpower, Nordin has built a loyal following across the globe with her unique ability to charmingly push her audience out of their comfort zones while inspiring them to achieve the best results possible.
The Butt Bible, her first project as an ExerciseTV trainer, is a complete fitness system that will help beat any backside into shape with an innovative approach featuring 6 kickass, circuit-style butt workouts covering all levels of intensity. Each workout is designed to efficiently create lean muscle, build cardio endurance and burn fat and calories. These workouts are made for everyone, from hardcore athletes to everyday people, with aspirations of having an amazing backside.
The Butt Bible is available for purchase at http://www.thebuttbible.com as a 3 DVD set for $24.99. Premium subscribers to ExerciseTV at http://www.exercisetv.tv will be able to stream the video workouts 24/7 at no additional cost as part of their membership. The 46 million cable and satellite television homes that have ExerciseTV On Demand can watch the video workouts as free video on demand programming through the summer. The Butt Bible's butt exercises are supported by a 30-day workout plan designed by Nordin and includes guidelines for building a healthy meal plan and even specific recipes to avoid what she refers to as "ricotta cheese" butt.
ExerciseTV, a division of NBCUniversal, is the leading digital fitness network providing fitness videos, fitness television programming, DVDs, workout plans, and online fitness communities along with tips for healthy lifestyles and effective exercising. ExerciseTV is available online at http://www.ExerciseTV.tv, in 43 million digital television homes and 1.1 million U.S. hotel rooms as free video-on-demand programming, plus across a myriad of platforms including free smartphone applications, iTunes, AppleTV, YouTube, Hulu and as a free SmartTV app for Samsung televisions. ExerciseTV was founded by personal fitness pioneer Jake Steinfeld of "Body by Jake."
###