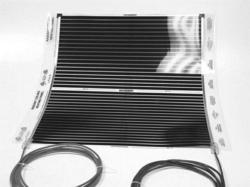 Calorique's user friendly features and low cost installation and monthly energy bills are the easiest way for builders to have an advantage in this fierce market.
West Wareham, MA (PRWEB) July 08, 2011
Calorique, a global leader in the manufacturing low cost, energy efficient radiant heat elements for a wide range of residential and commercial applications, has developers realizing the benefits of innovative heating methods in new building projects, including the use of interior heating for home or office, as well as snow melting and de-icing, and agricultural solutions.
As challenging obstacles continue to arise in the housing and development industries, many architects, developers, and builders recognize the need to stand out by integrating value-added features through distinguished upgrades in the highly competitive home market.
With this in mind, Calorique's radiant ceiling heat, which is up to 50% more efficient, has become an optimal solution to developers' needs to propose new, cost-effective offerings that can also reduce mold, mites, and allergen circulation that occurs with forced air heating systems.
"In this competitive industry, people are really looking to get additional value when investing their hard-earned money into a new home or commercial building," says Mike Collins, VP of Sales and Marketing at Calorique. "Calorique's user friendly features and low cost installation and monthly energy bills are the easiest way for builders to have an advantage in this fierce market."
At the same time, customers are becoming more attune with the benefits and comfort that comes from integrating heating technology into their lifestyle—and this is prompting them to seek solutions from retailers and builders that have yet to see the opportunity of selling floor heating solutions.
Global independent safety science company, UL, realizes the technology's importance not only from a developer's side, but also from the consumer's view, highlighting further motives for distributors to offer the innovative technology:
"As environmentally and cost-conscious consumers search for energy-efficient home heating alternatives, many, especially those living in very cold climates, will choose to install flexible electrical radiant heating systems in the ceilings or floors of their new or remodeled homes."
With the help of Calorique's innovative heating technology, the goals of gaining competitive advantage have been easily attained by numerous resellers and distributors throughout the United States and as far as Europe and Asia—meeting customer demand with exceptional value and utility that can increase living comfort and property value.
About Calorique
Since 1980, Calorique has been a global leader in the development of heating technology for residential and commercial applications. The U.S.-based manufacturer located in West Wareham, Massachusetts, at the gates of Cape Cod, is becoming one of the world's fastest growing companies of advance circuitry. Calorique offers a wide variety of solutions that cover many industries from home heating and healthcare to commercial aerospace. Serving more than 25 countries around the world, Calorique continues to grow as new resellers and distributors add its heating solutions to complement the world's best commercial and residential lifestyle products.
To learn more about Calorique and its products, visit http://www.calorique.com.
###