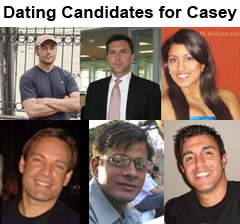 "See the men who could date Casey"
Miami, Fl (PRWEB) July 08, 2011
LatinEuro.com is offering love to what many now believed is the most unloved person in the USA. The reaction to the verdict has generated overwhelming negative opinions for Casey Anthony here in our country and would prejudice her from easily making friends here. Latineuro.com, an international dating site specializing in love, friendship, relationships, dating on an international level for 22 years, is the oldest dating site under the same management. See the photographs of the men who could potentially be Casey Anthony's next boyfriend at http://www.LatinEuro.com.
"Casey is probably the most hated woman in America," reports Jean Casarez on Anderson Cooper 360, CNN, TV, on 7/7/11. However, there is there hardly any international opinion on Casey Anthony based on Google searches. Those who join LatinEuro.com from other countries have not heard much of Casey Anthony and the outcome of her trial. They can view her dating profile on LatinEuro.com impartially and without prejudice and bias.
According to Vania Santos VP of LatinEuro.com dating site, "We are uniquely positioned to offer her new love and life possibilities and have a database of loyal users who have no preconceptions of her and would not judge her the way Americans would. Given that she is an attractive woman, we feel she should do very well in "international dating."
A unique space for Casey Anthony is on the homepage and there is a way to verify that it is her if she joins.
Each day the site gets about 21.000 unique hits. Many of these are from men and women who live in counties like Brazil, Argentina, Peru, Colombia, Netherlands, Germany, Australia and New Zealand.
Contact Vania Santos at: 1-305-858-7766 or vania(at)latineuro.com,
http://www.LatinEuro.com, 444 Brickell Avenue, Suite 51-517, Miami, Florida 33131 USA.
# # #