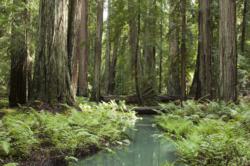 "Save the Redwoods League is honored to be one of only 10 nonprofits certified by the strict San Francisco Green Business Program," said Ruskin K. Hartley, executive director for Save the Redwoods League
San Francisco, CA (PRWEB) July 12, 2011
Save the Redwoods League, the only nonprofit organization dedicated to protecting ancient redwood forests throughout their natural ranges, has been certified as a green business by the San Francisco Green Business Program.
"Save the Redwoods League is honored to be one of only 10 nonprofits certified by the strict San Francisco Green Business Program, which helps San Francisco businesses operate in an environmentally responsible manner and recognizes them for their efforts," said Ruskin K. Hartley, executive director for Save the Redwoods League. Certification means City and County of San Francisco auditors have verified that a business complies with stringent environmental standards to reduce waste, prevent pollution and conserve resources.
To be one of only 10 certified nonprofits is especially gratifying, Hartley said, considering that more than 8,000 nonprofit organizations were registered in San Francisco County as of June 2011, according to the National Center for Charitable Statistics.
To earn our certification, we implemented green practices that, for example, led to cost savings in energy, water and waste bills:
--We strive to produce zero waste by recycling all resources such as paper, plastics and glass and composting all food and plant discards.
--We reduce waste at the source by printing on both sides of paper, buying in bulk and eliminating disposable products such as dishes and single-use water bottles.
--We use chlorine-free office paper and published materials with minimum 50 percent recycled content, soy or low-VOC inks and paper certified by the Forest Stewardship Council, which promotes environmentally appropriate, socially beneficial and economically viable management of the world's forests.
--We promote the use of public transit and commuter alternatives, offer telecommuting options and commuter benefits and participate in spare-the-air campaigns and the Emergency Ride Home program.
--We prioritize purchasing of services and products from local and green-certified vendors.
"Being certified as a green organization is important to us," Hartley said. "We want to support higher environmental standards to be responsible stewards of the Earth. We hope our certification inspires others in our community to do the same."
To learn more about the League, please visit SaveTheRedwoods.org
About Save the Redwoods League
Walk through a redwood forest—home of the tallest, and some of the largest and oldest living beings on Earth—and you can't help but feel an overwhelming sense of awe and peace among these magnificent giants. Since 1918, Save the Redwoods League has led the effort to protect the coast redwoods and giant sequoias for all to experience and enjoy. To date, the League has protected more than 189,000 acres of forestland and supporting landscapes. For more information, please visit SaveTheRedwoods.org, or to receive monthly e-mail updates, sign up at SaveTheRedwoods.org/signup.
###