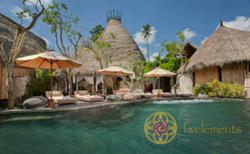 We'll teach our guests to prepare simple, indulgent raw food recipes for health, beauty, and longevity in one of the most beautiful places on earth, says Soria
Mendocino Coast, CA (PRWEB) July 09, 2011
Living Light Culinary Institute founder and director Cherie Soria, author of The Raw Food Revolution Diet, is traveling to Bali to present a Master Series on gourmet raw vegan food at Fivelements Puri Ahimsa retreat in Bali Friday, September 23 through Sunday, September 25, 2011. She will join Fivelements Executive Chef Made Runatha for the 3-day workshop, which will include a talk, "Raw Food for Health, Beauty, and Longevity," and a gourmet raw vegan dinner prepared by the two chefs on Friday evening. During the Friday evening talk, Soria will share her personal raw food regimen; including health practices, beauty rituals, and anti-aging tips she uses to maintain a youthful appearance at age 64.
" I hope to inspire and motivate people to add more raw vegan foods to their daily diet," Soria says, "not just for the wellness benefits, but because they are delicious, indulgent, and easy to prepare."
Culinary training, both theory and practice, on Saturday and Sunday will include lectures and hands-on food prep and knife skills labs. Daily meals include breakfast green smoothies, a gourmet raw vegan lunch, high tea, and a health cocktail hour before dinner each evening. The focus of the classes will be on making gourmet raw meals easy, with emphasis on incorporating the five flavor elements in raw cuisine for optimum flavor and satisfaction. The short but intensive course will use only basic kitchen supplies, and is geared to both novices and professionals.
"My aim is to demystify flavor dynamics and demonstrate how to identify and balance the five most important flavors". says Soria. "It is important to understand when to use each flavor and how to combine them to create balanced recipes."
Time will be allotted for other activities including yoga and optional health and beauty treatments at Fivelements Puri Ahimsa, a luxury facility nestled along the Ayung River in Bali. Classically trained chef and Living Light graduate Made Runatha revisits the classics from his region with a gourmet raw culinary perspective. Signature dishes include Live Seed and Gojiberry Granola, Tulamen Crab-Free Cake, Sweet and Sour Cilantro-Cress Soup with Cashew Pine-Nut Sour Cream, and Fresh Harvested Green and White Bali Seaweed Salad with a Spiced Young Coconut Dressing.
Cherie Soria, founder and director of Living Light Culinary Institute in Fort Bragg, California, has been teaching gourmet raw vegan cuisine to individuals, chefs, and instructors since 1998 and vegetarian culinary arts for more than 40 years. Cherie is author of several books, including Angel Foods: Healthy Recipes for Heavenly Bodies, and Raw Food Revolution Diet: Feast, Lose Weight, Gain Energy, Feel Younger!
###