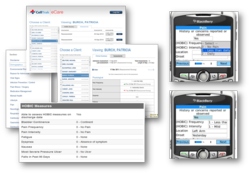 Bill's background and proven track record as a business strategist, an accomplished CEO, and board member of leading organizations will help CellTrak move to the next level as a leader in mobile healthcare technology solutions, shared Michael Wons CEO
Schaumburg, IL (PRWEB) July 08, 2011
Founded in 2006, CellTrak Technologies, Inc. is the leading provider of integrated mobile solutions for the home healthcare, hospice, and private duty markets. With patent pending software-as-a-service solutions that run on GPS-enabled mobile devices via a homecare technology platform which automates workflow and reduces cost CellTrak is a leader in mHealth solutions. With CellTrak, data is transmitted wirelessly to an internet site making the data available real time and secure instantaneous integration is provided to the back-end clinical systems and the payer networks. Homecare aides deliver millions of successful visits via CellTrak every week.
CellTrak today announced the addition of William K. (Bill) Hall to its Board of Directors effective immediately. William K. (Bill) Hall is an experienced CEO, Business Strategist, Board Member and Investor in leading technology companies.
Mr. Hall currently serves on the Board of Directors for the following organizations: Stericycle, Grainger, Actuant and Rush University Medical Center – Academic medical center in Chicago, Illinois.
"The addition to Bill to our Board of Directors is a very important strategic move for CellTrak. Bill's background and proven track record as a business strategist, an accomplished CEO, and board member of multiple billion dollar organizations will help CellTrak move to the next level as a leader in mobile healthcare technology solutions" shared Michael K. Wons Chairman of the Board and President and CEO of CellTrak Technologies, Inc.
In addition to serving on the Boards of leading organizations, Mr. Hall was a senior corporate executive in five companies including; Procyon Technologies, Inc, Falcon Building Products, Inc., Eagle Industries, Inc., Farley/Northwest Industries/Fruit of The Loom, and Cummins Diesel engines & power systems.
Mr. Hall also serves on the board of Northwestern University Settlement Association – Inner city social services, University of Michigan Depression Center – Academic & clinical medical research center, University of Michigan Center for Entrepreneurship and is an Adjunct Professor in the Engineering and Business Schools at the University of Michigan.
"CellTrak provides a very unique vertically integrated mobile solution that has many untapped uses across the healthcare space. I am pleased to join the board of this emerging company with great products and great people", shared Bill Hall.
For more information please visit: http://www.celltrak.com
###