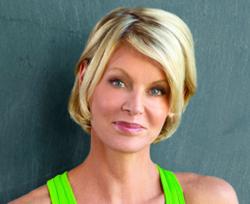 Kimberly Fowler's YAS Fitness Center was the first studio dedicated to the combination of Spinning® and yoga, sparking the yoga hybrid movement.
New York, NY (PRWEB) July 08, 2011
In one of the summer's hottest locations, elite instructor Kimberly Fowler, deemed "The new face of yoga" by CNN's Dr. Sanjay Gupta, will bend bodies into beach-ready. From July 15-17, the author & founder/CEO of YAS Fitness Centers will create balance and harmony in the Hamptons as she leads weekend classes during Prevention's 2nd Annual Yoga Studio.
Architect behind Southern California's famed YAS studios, with 4 locations and over 50,000 members, Kimberly has led a yoga rebellion with her expert marriage of heart-pumping cardio and NO OM yoga training. What was once a yoga oddity is now the biggest trend in fitness as literally thousands of hybrid yoga studios, inspired by Kimberly's concept, have opened shop across the nation fusing countless forms of cardio with yoga.
With her no frills approach, Kimberly is the yoga expert for the LA Marathon, the face of Got Milk ads, star of a collection of fitness DVDs, and author of the Amazon best-selling book The No Om Zone. A former triathlete and cancer survivor, Fowler has built her no nonsense wellness philosophy and publicly shared her experiences through YAS, by raising over a million dollars for charities such as ThinkCure!.
During the event, participants will enjoy A-list treatment, free classes, energy-boosting products, healthy refreshments, and more. Whether beginner or advanced, sign-up for the ultimate yoga experience early, as space is limited. Classes will be held Friday - Sunday from 8:00am – 6:00pm at 85 Jobs Lane, Southampton, NY. To get the class schedule or sign up, visit prevention.com/studio.
To learn more about YAS, visit http://www.go2yas.com or join Kimberly Fowler's conversations and get connected with her book, blog, yoga wisdom, and tweets, visit http://www.facebook.com/KimberlyFowlerYAS.
About YAS
Founded in 2001 by Kimberly Fowler, YAS Fitness Center was the first studio dedicated to the combination of Spinning® and yoga, sparking the yoga hybrid movement that remains today's biggest fitness trend. YAS attracts strong and capable clients seeking to take their fitness to new levels. With locations in Venice, Silverlake, East Costa Mesa, and Downtown LA, YAS is a place to come together with like-minded people for hard work and fun. Kimberly's pioneering one-hour yoga class, YOGA for ATHLETES® integrates movement, strength, and breath work to help athletes excel, no matter their sport or ability level. Kimberly's bestselling practical guide to yoga, The No OM Zone, is available at all YAS Fitness Centers, as are her three DVDs and celebrated YAS yoga and sportswear line. YAS offers comprehensive teacher training based in Kimberly's original yoga hybrid philosophy. (http://www.go2yas.com)
# # #