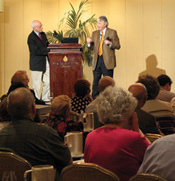 I went to the seminar feeling afraid and depressed....I left inspired and filled with hope.
Dallas, TX (PRWEB) July 12, 2011
IMF Patient & Family Seminars empower patients and provide invaluable information to the myeloma community. Since the first seminar held in 1993, the IMF has been raising the standard of care for myeloma patients by providing information on the latest innovations and discoveries directly to those who can benefit the most. This month the IMF Patient & Family Seminar will be held on the 15th and 16th at the Omni Dallas Hotel Park West, Dallas, Texas.
The IMF pioneered the concept of two-day interactive seminars for those with multiple myeloma and the people who care for them. These meetings allow patients to meet with leading experts in myeloma for question and answer sessions and to learn about research, treatment advances, clinical trials and promising novel drugs. Outstanding nurses in the field of myeloma work through quality of life issues with the attendees. This forum also allows fellow myeloma patients and caregivers to meet and share experiences and insights. These meetings raise awareness for support groups in the community, of which there are over one hundred and twenty across the country at this time.
Once a rare disease of the elderly, multiple myeloma is now the second most common form of blood cancer, and is being diagnosed in younger and younger patients. Each year approximately 20,000 new cases are diagnosed in the United States alone.
In addition, the IMF holds ten one-day events, called Regional Community Workshops, with 50 to 120 attendees. The typical attendance at a Patient & Family Seminar is 150-300 people, and the IMF hosts four of these interactive seminars in the United States each year. These two-day meetings especially, empower and support patients and their caregivers by sharing the latest information on multiple myeloma treatment and research, and by bringing them together with their local resources. For more information, contact Paul Hewitt at 800-452-2873.
About the International Myeloma Foundation
Founded in 1990, the IMF is the oldest and largest myeloma organization in the world, reaching more than 195,000 members in 113 countries. Focusing on four key areas—research, education, support and advocacy, the IMF's mission is to improve the quality of life of myeloma patients while working toward prevention and a cure. The research arm of the IMF, the International Myeloma Working Group (IMWG), leads the way in myeloma treatment and research. The IMF can be reached at (800) 453-CURE. The global website is myeloma.org.
###