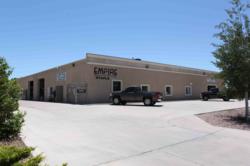 "The Insulated Concrete Forms (ICF's) when filled with concrete, provide a sustainable, green built, high-energy efficient structure that is strong and aids in noise reduction'" said Scott Crawford, Nu-Tech Systems President.
(PRWEB) July 11, 2011
The Valley Business Center, owned/managed by Nu-Tech Systems, has earned the U.S. Environmental Protection Agency's (EPA's) ENERGY STAR certification, which signifies that the building performs in the top 25 percent of similar facilities nationwide for energy efficiency and meets strict energy efficiency performance levels set by the EPA.
The Valley Business Center was the only recipient in the Warehouse (Unrefrigerated) category in Colorado Springs and is 1 of only 3 to earn the certification in Colorado.
"Nu-Tech Systems is pleased to accept EPA's ENERGY STAR certification in recognition of our energy efficiency efforts," said Scott Crawford, President. "Through this achievement, we have demonstrated our commitment to environmental stewardship while also lowering our energy costs," Crawford said.
Commercial buildings that earn EPA's ENERGY STAR certification use an average of 35 percent less energy than typical buildings and also release 35 percent less carbon dioxide into the atmosphere. Nu-Tech Systems improved its energy performance by managing energy strategically across the entire organization and by making cost-effective improvements to its building.
There are six separate units in the building used for general warehousing and distribution. The two largest tenants are Empire Staple, a distributor of construction related materials and Atlantic Heating, a heating and air-conditioning contractor. The building has a total of 13,000 sq. ft.
"Improving the energy efficiency of our nation's buildings is critical to protecting our environment," said Jean Lupinacci, Chief of the ENERGY STAR Commercial & Industrial Branch. "From the boiler room to the board room, organizations are leading the way by making their buildings more efficient and earning EPA's ENERGY STAR certification."
To earn the ENERGY STAR, Nu-Tech Systems emphasized energy conservation as a key first step in their planning. A critical decision when entering the construction phase was using Insulated Concrete Forms (ICF's) in the perimeter walls. "The ICF's when filled with concrete, provide a sustainable, green built, high-energy efficient structure that is strong and aids in noise reduction'" Crawford said.
Crawford recently completed a second-office-warehouse building on Town Center Drive using ICF's and plans to earn the Energy Star Award on that building.
Owners of sustainably managed buildings expect a four percent higher return on investment (ROI), five percent increases in building value and occupancy, eight percent lower operating costs, and a one percent rise in rental income, according to a 2010 report released at the Greenbuild Conference by McGraw-Hill Construction, CB Richard Ellis (CBRE) and the University of San Diego's (USD) Burnham-Moores Center for Real Estate.
About 79 percent of owners surveyed believe that green helps them attract and retain tenants, which is a competitive advantage during a difficult economy, according to the report. Crawford agrees with the finding. "The Valley Business Center and the new building on Town Center Drive are 100% leased and the energy efficiencies were a key reason," he said.
The report, "Business Benefits of Green Buildings SmartMarket Report," is the second phase of an ongoing study initiated in 2009 by CBRE and USD. It looks at how commercial building owners, managers, tenant firms and occupants perceive benefits of green buildings as well as the benefits that are driving green building growth in the United States. According to the report, tenant satisfaction also increases after green upgrades, with 94 percent of managers seeing higher satisfaction levels. Eighty-three percent of tenants also believe they have a healthier indoor environment as a result of green efforts.
EPA's ENERGY STAR energy performance scale helps organizations assess how efficiently their buildings use energy relative to similar buildings nationwide. A building that scores a 75 or higher on EPA's 1-100 scale may be eligible for ENERGY STAR certification. Commercial buildings that can earn the ENERGY STAR include offices, bank branches, data centers, financial centers, retail stores, courthouses, hospitals, hotels, K-12 schools, medical offices, supermarkets, dormitories, houses of worship, and warehouses.
ENERGY STAR was introduced by EPA in 1992 as a voluntary, market-based partnership to reduce greenhouse gas emissions through energy efficiency. Today, the ENERGY STAR label can be found on more than 60 different kinds of products as well as new homes and commercial and industrial buildings that meet strict energy-efficiency specifications set by the EPA. Last year alone, Americans, with the help of ENERGY STAR, saved $18 billion on their energy bills while reducing the greenhouse gas emissions equivalent to those of 34 million vehicles.
For more information about ENERGY STAR Certification for Commercial Buildings: http://www.energystar.gov/labeledbuildings
COMPANY INFORMATION: Nu-Tech Systems was founded in1992. If any developers, builders or tenants would like to visit and see the building call Nu-Tech Systems at 719.761.6831. Nu-Tech Systems, 4759 Town Center Drive, Colorado Springs, CO 80916.
View video about the Valley Business Center: http://youtu.be/8vXp9mNTesA
###