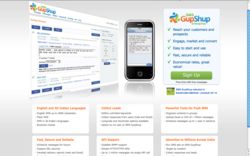 With a platform like BizShup, I can be sure that my clients get the information immediately and can utilize that to their benefit by executing a timely buy/sell. I also send trading tips to them frequently which they really like.
Santa Clara, CA / Mumbai, India (PRWEB) July 08, 2011
Today India's largest social network, SMS GupShup, is announcing the launch of BizShup, a new suite of services for businesses to reach customers via mobile device. The new business tool provides a group messaging platform for businesses that allows them to form groups, send messages, create ads, and track analytics. For the first time, businesses can create an SMS campaign, at scale, on the fly, from a mobile device and reach consumers across all mobile devices.
Small businesses use the GupShup platform to acquire new customers or to engage their existing customers. Business owners can acquire new users by tapping into the 45 million member opt-in community and sending messages targeted by topics of interest, geography and other demographic criteria. Business owners can also create their own groups to send regular updates to their existing customer base. The unique benefit of using the SMS GupShup platform is the ability to drive word-of-mouth to build large, loyal customer base for any business.
Business owners can create highly customized campaigns in just a few simple steps:
1) Setup – businesses register and select message volume.
2) Businesses select the customer audience based on desired targeting criteria.
3) Campaigns may be created by writing an original message, or using an SMS GupShup template
4) Messages may be delivered immediately or on a timed schedule.
Beyond this, business owners may also use the 'Keywords' function to attract new customers; the first step is to define a keyword and associate a phone code to it – for example, "To get cool discounts SMS PIZZA to 9220092200." Here PIZZA is the keyword, and users who send PIZZA to 9220092200 will automatically be added to this business' customer list. Business owners can also generate responses by directing calls to their call center or distributing coupons that can be redeemed at the point-of-sale location.
Previously in beta, BizShup has already run hundreds of campaigns to test the service. For example, Uday Patil, an entrepreneur from Mumbai who owns Anand Sky Shop, now spends all of his advertising budget on lead generations through SMS. Patil notes, "I was surprised to see the quality of leads generated by BizShup. The response rate was about 2% and my business is viable now and growing at double digits month after month."
Mr.Arun Rangparia, a stock broker from Gujarat has been using the SMS GupShup platform for several months, and is happy that BizShup has formally launched with expanded services: "Stock trading information is time-critical. With a platform like BizShup, I can be sure that my clients get the information immediately and can utilize that to their benefit by executing a timely buy/sell. I also send trading tips to them frequently which they really like. If I miss sending them tips, some of them even call me to ask me to keep the messages coming."
"The next great revolution in India, and other emerging markets, will be the emergence of the mobile-savvy small business entrepreneur," states SMS GupShup CEO Beerud Sheth. He added, "There are millions of small business owners in India and previously there were no effective marketing tools for them to acquire and retain their customer bases. India will take a giant leap from physical advertising to mobile advertising, and in many cases, leapfrog online advertising. We expect BizShup will be a driver for this revolution."
"Offerings like BizShup are yet another example of how India is experiencing rapid growth by taking infrastructure leaps directly to the mobile medium," states Vikrant Gandhi of Frost & Sullivan. "Mobile marketing in India will definitely outpace western nations in terms of scale combined with massively accessible technologies like SMS and innovative and simple solutions like BizShup."
The BizShup offering is now live at:http://enterprise.smsgupshup.com
###