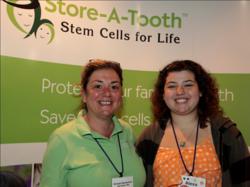 Dental stems cells offer our family a new direction to pursue and a renewed hope that a cure for diabetes is within reach.
Orlando, FL (PRWEB) July 08, 2011
The Tooth Fairy is no longer the only one laying claim to the tens of millions of baby teeth and wisdom teeth discarded each year. Upon learning that potent, potentially life-saving stem cells exist in the dental pulp of their child's teeth, parents like Georgia Spiropoulos of Puget Sound, WA are increasingly banking these precious cells with companies like Store-A-Tooth in hope that one day advancing science will unlock treatments to such prevalent conditions as diabetes, spinal cord injury, stroke and even neurological disorders such as Parkinson's and Alzheimer's.
For Georgia, a recent study in the Journal of Dental Research indicating stem cells from teeth may someday produce a cure for diabetes offers renewed promise for her 15-year-old daughter Alexa Brenner. Alexa is among the nearly one million Americans afflicted with type 1 or juvenile diabetes, with more than 15,000 children and teenagers newly diagnosed each year. Mother and daughter will be attending the annual Children with Diabetes Friends for Life conference this week in Orlando, FL.
"When I learned of the research being done around dental stem cells particularly in the area of diabetes, I was filled with hope for my daughter," says Georgia Spiropoulos, also a member of the Board of Directors of the Northwest Chapter of the Juvenile Diabetes Research Foundation (JDRF) and a speaker at the Children with Diabetes conference. "As any parent of a child suffering from a chronic disease knows, hope sometimes comes from the most unlikely places, so it is important that we remain open to exploring promising, new discoveries like dental stem cells."

Could a Tooth Cure Diabetes?
Intensive research is underway worldwide to develop practical medical and dental applications using dental stem cells. The study in the Journal of Dental Research indicated that the stem cells found in teeth can create islet-like cells which produce insulin in response to varying levels of glucose – early research suggesting that in the not-too-distant future, dental stem cells might be used for growing new islet cells, a significant step toward developing stem cell therapies for diabetes.
The finding is particularly important for Alexa's disease, type 1 diabetes, which results from a failure of the pancreas to produce enough insulin, the hormone that plays a vital role in the body's use of glucose (blood sugar). Research continues to determine whether insulin-producing cells derived from dental stem cells might one day be used as part of a cure for type 1 diabetes.
"We were so hopeful 14 years ago when we first learned of Alexa's diagnosis that a cure would be found within ten years," says Georgia. "Dental stems cells offer our family a new direction to pursue and a renewed hope that a cure for diabetes is within reach."
Banking Dental Stem Cells: Plentiful, Convenient, Affordable and Non-Controversial
For Georgia, like so many parents who did not bank their child's cord blood, banking Alexa's wisdom teeth offers a second chance to retrieve stem cells from a non-invasive, affordable, non-controversial source. Unlike bone marrow, dental stem cells are easy to collect and can be obtained at various times during youth, whereas cord blood stem cells are only available at birth. Moreover, dental stem cells are not subject to any ethical concerns and can be banked for one third to one half the cost of umbilical cord blood.
"My husband and I easily spend hundreds of dollars each year supporting Alexa's athletic and academic pursuits," says Georgia. "How could I not make a similar investment in safeguarding my daughter's future health, particularly when banking the stem cells from her teeth was so easy?"
Store-A-Tooth™, A High Quality Biobanking Provider is Key to Successful Preservation
Parents who are interested in banking their child's dental stem cells should carefully evaluate the quality of a banking provider before entrusting them with their child's precious cells. Selecting a high quality provider like Store-A-Tooth, the leading biobanking firm that processed and stored Alexa's teeth, ensures cells are successfully collected, stored safely and securely, and are available in the best possible condition if and when they are needed.
"Store-A-Tooth's commitment to educating parents on the current science and adhering to the highest quality standards when collecting and preserving dental stem cells was incredibly reassuring," attests Georgia. "The Store-A-Tooth team was involved every step of the way, and expressed such care and concern for our family."
A few things parents should look for when evaluating providers of dental stem cell banking include the collection process, transportation method, processing method, quality control, and lab accreditations. To learn more about how Store-A-Tooth invests in quality throughout its process or for more information on current research and news on dental stem cells, please visit http://www.store-a-tooth.com or call 1-877-867-5753. Store-A-Tooth will again be exhibiting at the Children with Diabetes Friends for Life conference this week in Orlando, and later this month in Toronto.
About Provia Laboratories
Provia Laboratories, LLC (http://www.provialabs.com) is a health services company headquartered near Boston, MA which specializes in high quality biobanking (reservation of biological specimens). The company's Store-A-Tooth™ service platform enables the collection, transport, processing, and storage of dental stem cells for potential use in future stem-cell therapies. The company advises industrial, academic, and governmental clients on matters related to the preservation of biological specimens for research and clinical use. In addition, Provia offers a variety of products for use in complex biobanking environments to improve sample logistics, security, and quality. Provia Labs is a member of ISBER, the International Society for Biological and Environmental Repositories.
# # #