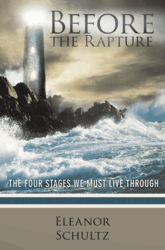 Quinton, VA (PRWEB) July 12, 2011
In her book Before the Rapture: The four stages we must live through (published by WestBow Press), author Eleanor Schultz shares the biblical perspective of events that will take place before the rapture. She has fit together the pieces of end-time prophecies that are scattered throughout the Bible and laid them out in chronological order.
"This is a message whose time has come," says Schultz, "a message for the church, for the Christian, and for all who will hear. The knowledge to be gained from this book will sustain hope and eliminate fear as we navigate these storm-laden times."
Before the Rapture addresses the events of the end of this age from the perspectives of the church, the nations and the Jews. The author lays the groundwork by explaining God's plan of redemption for all things, including our relationship with God, our bodies, the heavens and the earth.
"Heaven is not reacting to what is going on down here; earth is reacting to what is happening in heaven," writes Schultz. "God's plan of redemption is the controlling factor for end-time events and Satan does not have veto rights. God is still in control."
About the Author
Eleanor Schultz graduated from Bethany College of Missions with a three-year diploma in theology and missions. She has taught at a prestigious Bible Institute for 22 years and serves on the board of Send the Light International. Schultz served alongside her late husband for many years with WEC International, a foreign mission board. She also holds seminars and conferences through her ministry Prophetically Speaking (http://www.PropheticallySpeaking.org).
WestBow Press is a strategic self-publishing alliance of Thomas Nelson, the world's premier Christian publisher, and Author Solutions, Inc. (ASI)—the world leader in the fastest-growing segment of publishing. For more information, visit http://www.westbowpress.com.
# # #