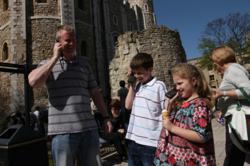 London, UK (PRWEB UK) 10 July 2011
Discover the hidden secrets of the Tower of London in this outstanding audio tour whilst exploring this magical site. Listen to stories about the history of the tower and learn about the people who have lived, worked and even fought here! Interviews with staff and re-enactments from actors really bring the tour to life and give the visitor an insight into the Tower of London in the past and present.
The multimedia tour is available in English, French, German, Italian, Spanish, Japanese, Korean, Mandarin, Dutch, Portuguese and Russian with a Visually Impaired tour and children's tour also available in English. Images are now available on every stop commentary to enhance the tour and make it easier for the visitor to orientate themselves around the Tower.
With the tour you can hear commentary about the Castle Keep, gain a unique insight into the trial of Anne Boleyn, hear gory stories from the Bloody Tower and learn about the ravens; how they came to live at the tower and an interview with their keeper about their daily routine.
One part of the Tower that cannot be missed is the Crown Jewels. With the 23,578 gems that make up the Crown Jewels; you will be dazzled by the items on show and the mesmerising commentaries describing them. Step inside the Tower yourself to see crowns that many great British Kings and Queens have worn and in the case of the Imperial State Crown, is still worn by Queen Elizabeth II today.
The new Opus multimedia guides are not to be missed!
Also this month:
Last week we installed our Opus Touch™ players at Banqueting House and next week we will be installing Opus Click™ at Hampton Court Palace.
As you can see it is a very exciting month for the team here and we hope you share our enjoyment by trying the new Opus multimedia guides at any of the above sites and let us know your feedback!
# # #