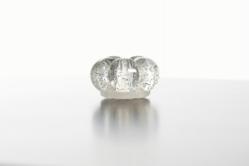 With aesthetic appeal built right into the design, Starlettos have been created to protect the wearer's image as much as they protect their high heels.
(PRWEB) July 21, 2011
Starlettos are the super cute and very clever heel protectors that not only look after a lady's precious high heels, but also save her dignity by preventing awkward stumbling or falling onto the lawn at weddings, race-days, polo and garden parties.
Launched in Australia in 2009 for the famous Spring Racing Carnival, these fabulous little shoe accessories are turning two this year and not only has their clever founder Ilde Naismith-Beeley managed to pop out her second baby in the meantime, she's also licensed Starlettos distribution into international markets, including the UK, mainland Europe, Russia and Scandinavia – in fact over 30 countries. Distribution into the USA and Canada is due to commence this year with expressions of interest currently being considered.
Starlettos are already widely available across Australia, online, through boutiques, shoe repairers and at key locations like high street shoe stores and fashion and bridal boutiques, RRP A$19.99.
Created by Ilde Naismith-Beeley as a solution for her own outdoor wedding in 2007, Starlettos took over two years to perfect but it was worth the wait. With aesthetic appeal built right into the design, Starlettos have been created to protect the wearer's image just as much as they protect their high heels. The result is the most stylish and versatile heel protector on the market, resembling a small flower and fitting discreetly over the base of a stiletto heel to provide greater width, stability and protection for heel-wearers on uneven or soft surfaces like grass, decking or polished floors. They not only prevent getting stuck in the grass, but Starlettos will also help to avoid slipping, sliding and getting heels stuck in piers, escalators and many other other dangerous heel territories.
Lovingly designed to fit most sizes of stiletto heels from 8-14mm (0.31-0.55 inches) diameter, they are barely visible when worn on grass, but make a noticeable difference to comfort, calf muscles and shoe-longevity. An essential addition to the outdoor ensemble.
In Noir, Rouge, Crystal (Clear) and Sparkle (clear with sparkly bits!) there's a Starletto to suit all shoes.
ABOUT STARLETTOS
Designed for Peace of Mind: The ingenious, patented design has been carefully developed to deliver the strength to keep women on top, the security to stay on all day and the versatility to fit most slender heels or stilettos. Rather than straining on tippy-toe all day, Starlettos wearers can relax, smile and concentrate on enjoying the occasion.
Discreet Pairing of Form and Function: Cupping the base of the heel like a little flower, Starlettos are barely noticeable when worn on grass.
Star-Appeal for Shoes: For times when they can be seen, great care has been taken to imbue Starlettos with an organic and stylish form. For the expressionists, a range of colours and tints offer the chance to have a bit of fun with them. Look out for seasonal limited editions.
Protection for you and your shoes! The clever non-slip base of Starlettos also means they're great to protect floors inside at home, the office, at a friend's houseor at an indoor party. There's no danger of coming a cropper on the dance floor and no slipping and sliding across wooden floors, polished concrete or tiles.
Multi-purpose: Starlettos are also fantastic for riding on escalators; walking on boats, jetties, decks and any other surface where slim high heels can get stuck in a groove. They also give protection for heels against scuffing or tearing on uneven surfaces or paving.
Easy To Clean And Store: Starlettos can be worn a number of times and come with a little silk pouch for protection and easy storage in a purse or handbag. After use, they are simple to twist off the bottom of the heel and rinse under cold water to remove and grass or dirt.
ABOUT THE COMPANY
Starlettos Pty Limited was formed in 2010 by Co-owners and Directors, Ilde and Mark Naismith-Beeley. Based in Sydney, Australia, Starlettos operates online as a retailer and wholesaler of Starlettos in Australia and now internationally. In the UK, Europe, Scandinavia and Russia, Starlettos are manufactured and distributed under licence by Grangers International Limited and Bergal Nico Solitaire, two of the largest European distributors. Distribution arrangements in the USA and Canada are in process with expectation of being widely available in time for spring.
ABOUT THE DIRECTORS
Ilde and Mark Naismith-Beeley married in 2007 and live together in Sydney, Australia with their two young children.
###