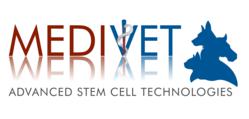 It's a drug-free treatment that gives the animal an improved quality of life. It's a win-win situation for both the animals and their families!
(PRWEB) July 09, 2011
In what is believed to be a world first, a sheep has this month undergone Medivet's revolutionary Adipose Stem Cell Procedure to treat its crippling arthritis.
The procedure has been carried out at Pet Universe Veterinary Centre in Manningham, South Australia.
Tommy the Merino ram wandered up to Pam Hutchinson's doorstep when he was just hours old, and quickly became a member of the family.
Seven years on and Tommy is suffering crippling arthritis in his elbow joints. "His right elbow is completely locked-up," says Pam. "Unlike dogs, sheep can't walk on three legs, so he's totally crippled. We are hoping stem cell treatment will give him back his quality of life."
The revolutionary treatment, developed by Australian company Medivet, means animals suffering common ailments including osteoarthritis and other degenerative diseases no longer need to suffer chronic pain.
Until now, this treatment has been most commonly used to treat dogs, cats and horses.
Dr Chris Lee from Pet Universe is one of the first vets in Australia to offer the breakthrough procedure, which is now fast, affordable and performed entirely in-clinic.
The procedure is not controversial as no embryonic cells are used, only cells obtained from the sheep's own fat.
A marked improvement in Tommy's mobility has already been recorded.
Thanks to Medivet's innovative technology, this process is now affordable for all families globally.
Dr Chris is excited to offer this amazing treatment to a Merino ram! "Tommy is quite old for a sheep. He weighs between 60 and 70 kilos, but the principal is the same regardless. It's a drug-free treatment that gives the animal an improved quality of life. It's a win-win situation for both the animals and their families! This is an exciting breakthrough for Medivet and for the future of stem cell treatment in veterinary regenerative medicine."
# # #