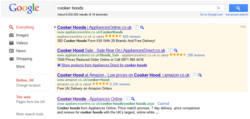 We are competing against some of the biggest brands in the UK and coming out on top.
(PRWEB UK) 10 July 2011
The Greenlight Report is released every three months and details retailer's performance in both paid and natural search across the internet. The latest results reveal that Appliances Online is the most visible paid advertiser within the white goods sector outperforming more established high street brands such as Comet and John Lewis.
However, it wasn't just paid search which brought success for Appliances Online; the brand also dramatically increased its natural search visibility moving up six places from November's Greenlight Report. This success has coincided with the expansion of the SEO team and increased emphasis on improved URLs, user friendly content and more efficient site architecture.
This drive to achieve the top position in both paid and natural search has resulted in Appliances Online increasing like for like sales by an average of 158% in 2011. Traffic to the website has increased by 49% leading to a 60% increase in conversion across Appliances Online in 2011.
Marketing Director Andrew Kirkcaldy believes the secret to Appliances Online's success is having a dedicated in-house team rather than using an outside agencies; "We are very fortunate to have a group of talented individuals who are constantly looking for ways to increase Appliances Online's position within both paid and natural search whilst at the same time driving down the cost percentage.
"We have a dedicated web analytics team who constantly research and monitor emerging trends to further understand which key words our consumers are using when looking to buy white goods, we then transfer this information into our Ad Words account and more importantly into the product descriptions pages on our website."
This attention to detail continues to ensure Appliances Online's dominance within paid search. The brand currently commands a 68% share of voice within the white goods industry 14% ahead of competitors John Lewis and 29% ahead of Comet.
Routes to Market Manager, Lee Frame is responsible for paid search at Appliances Online; "We believe it is important to differentiate our brand from our competitors. We invest a lot of time in developing our routes to market to ensure the advertisements we serve to customers best match their initial search. We are competing against some of the biggest brands in the UK and coming out on top."
# # #