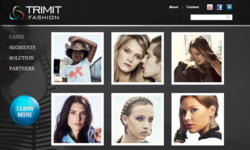 TRIMIT Fashion gives us a unique opportunity to "talk" fashion and demonstrate our leadership position in this industry
(PRWEB UK) 22 July 2011
http://www.trimitfashion.com – the place to go if you are looking for a new IT solution for your fashion company.
TRIMIT is very proud to launch trimitfashion.com – our new website dedicated at fashion companies looking for a new IT solution. "It has been our intention for a while to have a place that is 100% focused on fashion", says Richard Postborg, CEO of TRIMIT. He continues: "This gives us a unique opportunity to "talk" fashion and demonstrate our leadership position in this industry". The idea has been to have a cool layout that smells like fashion, to show that we know fashion and to illustrate our many references throughout Europe and the rest of the world.
The main purpose of trimitfashion.com is to generate leads for our partners. Business has been successful this year, new initiatives have been started, a new major version of TRIMIT has been launched, many new customers have decided for TRIMIT, and new partners have joined in countries like Portugal, Norway and Italy. Partners are a key part of trimitfashion.com. Locally, campaigns are running together with partners to promote trimitfashion.com. Examples are Denmark, Norway, Sweden and the Netherlands where web banner campaigns and Google Adwords are used to promote the new website.
We really encourage you to take a look at http://www.trimitfashion.com. Not only to read the customer stories, but also to learn about the TRIMIT solution and to see all the segments that currently are covered by the TRIMIT solution. These include areas like kids clothing, accessories, shoes, work wear and many more.
Next step is to have trimitfashion.com localized and available in a number of languages and country specific versions.
###