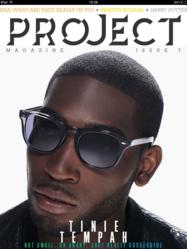 Revolutionary design and navigation sets the scene for the future of magazines.
London (PRWEB UK) 8 July 2011
Leading the way in digital publishing innovation, issue 7 of PROJECT, a joint venture by Virgin Digital Publishing and Seven, sees the launch of a revolutionary design and navigation refresh for the world's first ever iPad only magazine. Thanks to the invaluable feedback from fans, the latest issue is setting an industry benchmark for iPad magazine user interface design, setting the path for others to follow.
Combined with detailed monthly feedback from Apple's evangelists in Cupertino, PROJECT's readers' letters, plus finely tuned statistical data culled from the analytics system, the PROJECT team have built on the invaluable feedback from the magazine's fanbase.
Fifteen months since PROJECT's launch, more than 20 million iPads have been sold globally and there are 90,000 iPad apps. While PROJECT set the industry benchmark as the first native iPad magazine, a lot of new magazines followed in its footsteps.
To stay ahead in this fast-paced industry, it's important to innovate and evolve. PROJECT is now at the point where, with the latest issue, it's the closest it's ever been to its original purpose: building the future of magazines.
So what's different?
INSTINCTIVE NAVIGATION – while other iPad magazines meander and confuse the reader, PROJECT is slowly setting the benchmark for a design "language" for others to follow. Issue 7 boasts simplified and more consistent navigation. There are clearly marked magazine sections – Game Changer, Features and Work/Life – and a more instinctive, easy-to-navigate Contents page. There's also a portrait layout, to allow more flexibility for extra content.
BETTER SOCIAL INTEGRATION – PROJECT couldn't exist without reader input. The first iPad magazine to offer built-in Comments forums – it's now the first magazine to implement full Facebook integration, allowing readers to share articles (e.g. Film Theory 101: http://bit.ly/l3mpVP).
DEEPER CONTENT EXPERIENCE – Articles in PROJECT are a starting point – and if readers want to go deeper, they now can with specially prepared extra content. The cumbersome 'spine' is now gone: instead, the videos, and extra interview material is clearly labelled at the end of every page. We've also rethought how readers interact with certain materials: in Issue 8 you'll find a new-style Travel section that enables the reader to gather all the information they need without leaving the page.
AN "IPADIFIED" DESIGN – There's no other word for it. Much of PROJECT's initial layout was based, understandably, on existing paper magazine ideals. Not any more: it's gone back to basics. There are new, elegant fonts, tested to render perfectly, a more vibrant colour palette that befits the iPad's backlit screen and clever new visual tricks, such as pull up/down boxes for extra content, so that pages look less crowded.
All in all, PROJECT is now a far more friendly, consistent and enjoyable experience.
Launched last year and only six issues old, Project magazine has already scored a 14/15 rating and is in the top 1% of apps in iMonitor's Best Publication Apps evaluation, on a par with major publications the Sunday Times and USA Today.
The McPheters & Company's iMonitor service provides a detailed evaluation and global tracking of 1,600-plus media-related iPad apps from more than 50 countries. The list represents the best of breed, featuring apps that score in the top 2% of all apps that have been evaluated by iMonitor in the past year.*
Always striving to push the boundaries of digital publishing, it's no surprise that Apple is currently featuring PROJECT in 18 countries as one of the best iPad apps.
http://www.projectmag.com
http://www.seven.co.uk
Contact at Seven:
Shareena Ali
Seven
Tel: 020 7775 5549
Email: shareena.ali(at)seven(dot)co(dot)uk
For PROJECT advertising opportunities:
Charlie Parker
Seven
Tell: 020 7775 5727
Email: charlie.parker(at)seven(dot)co(dot)uk
Contact at PROJECT:
Sarah Waite
Seven
Tel: 07590 546911
Email: sarah.waite(at)projectmag(dot)com
About Project
PROJECT, a collaboration between Virgin Digital Publishing and Seven, is breaking new ground in digital publishing and iPad apps.
Launched last year and only seven issues old, PROJECT magazine has already scored a 14/15 rating and was among the top 1% of apps in iMonitor's Best Publication Apps evaluation – on a par with major publications such as the Sunday Times and USA Today. (Source: http://bit.ly/dNk3mV)
PROJECT is a monthly, purpose-built, interactive iPad magazine, packed with international culture, entertainment, design, business and travel.
Edited by Anthony Noguera, PROJECT is the first ever magazine for the iPad.
It combines the enduring foundations of traditional print media – beautiful aesthetics, authority and agenda-setting editorial – with the very best that new media can offer, such as interactivity, speed, flexibility and a sense of global community.
Already available in Apple's App Store in the UK, US, Canada and Australia, PROJECT is looking to expand into additional tablet platforms and markets. Issues have been downloaded in territories as far and wide as Korea, Brazil, Russia and Saudi Arabia.
PROJECT was the first international native iPad magazine, launched by Sir Richard Branson himself in New York on 30 November 2010.
Within two days of launch, PROJECT was No.1 in the App Store globally.
At the recent launch of the iPad 2 in San Francisco, Apple had pre-loaded PROJECT on to all the new devices to showcase their capability.
URLS:
http://www.projectmag.com
http://www.facebook.com/project
http://www.twitter.com/projectmag
About Seven
Seven is an award-winning, multi-channel strategic content agency.
Experts in creating intelligent, relevant and effective content across multiple channels, including magazines, websites, social media, interactive ezines, video, iPhone and iPad apps.
Clients of Seven include Virgin, Sainsbury's, CIMA, English Heritage, Grant Thornton, Guardian Media Group, Lloyds Banking Group, New Look and Waterstone's.
For further information: http://www.seven.co.uk or contact Shareena Ali.
Notes to Editors:
*Source: http://mcpheters.com/2011/04/05/imonitor%E2%84%A2-releases-list-of-best-publication-apps/
###