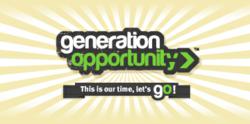 America's young adults have the optimism, creativity, talent, and initiative to help put the country back on the right track.
Washington, DC (PRWEB) July 08, 2011
Generation Opportunity, a new nonprofit, nonpartisan organization that seeks to both engage and organize 18-29 year olds on the economic challenges facing our nation, has released a statement from its President, Paul T. Conway, following the Department of Labor's release of the June unemployment numbers.
"America's young adults have the optimism, creativity, talent, and initiative to help put the country back on the right track. Amazingly, they have been told to simply be patient and continue to pay the devastating personal costs of federal policies that penalize job creators and fail opportunity seekers. Behind the numbers released today are millions of stories of difficulty and sacrifice — and unlike some of the elected officials who represent them — this generation is not wired to merely settle for the status quo while their futures and the future of the nation remain at risk.
"Today's unemployment numbers as released by the US Department of Labor underscore, yet again, the mounting challenges that face young adults. We know that seventy-seven percent of 18-29 year olds are delaying major life decisions and actions based on consistently bad economic news. Young Americans demand real solutions, not more rhetoric. As they continue to look for work and new opportunities to use all their talents — they expect those who they elected to do their jobs and fully address the debt, decrease federal spending and regulation and create an economic environment where individuals have the freedom to pursue their dreams."

Paul T. Conway, president, Generation Opportunity and former Chief of Staff at the US Department of Labor under Secretary Elaine L. Chao
(Note — Based on a poll Generation Opportunity commissioned with the polling company Inc./WomanTrend, April 16-22, +/- 4% margin of error, 77% of 18-29 year olds either have or will delay a major life change or purchase, such as buying their own place, saving for retirement, paying off student loans and starting a family, due to economic factors.)
About Generation Opportunity
Generation Opportunity is a non-profit, non-partisan 501 (c)(4) organization committed to addressing and working toward solutions on immediate economic challenges, such as a lack of job opportunities, as well as the broader, underlying issues that impact our economic future and sustainability. We seek to engage everyone from young adults, early career professionals, college students, young mothers and fathers, construction workers, current service men and women, veterans, entrepreneurs and all Americans who find themselves dissatisfied with the status quo and are willing to create a better tomorrow.
Generation Opportunity operates on a strategy that combines advanced social media tactics with proven field tactics to reach Americans 18-29 years old. The organization announced its first communications platform: "Being American," a Facebook page that has already amassed a fan base of more than 780,000. The page posts links to relevant articles and reports from sources ranging from the federal General Accountability Office (GAO), The New York Times, The Washington Post, The Brookings Institution, The Wall Street Journal, The Huffington Post, and The Heritage Foundation.
Read about Generation Opportunity here and visit "Being American" on Facebook by clicking here.
###