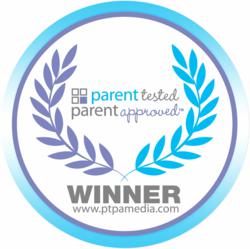 Seeing the PTPA Winner's Seal on a product package or website helps parents identify products that have been tested and recommended by other parents. It's like shopping with your best friend,"
Toronto, Ontario (PRWEB) July 12, 2011
Kiss your little one's bruises goodbye, welcome home pure drinking water straight from your tap and taste the delicious flavours of exotic hummus. These are just some of the submissions from Zax's Healthcare, Ecowater KX Technologies LLC and Fontaine Santé that have recently been awarded the coveted PTPA Seal of Approval.
PTPA Media is North America's largest parent tester community – a credible third party resource for parents with over 40,000 volunteer parent testers.
"Seeing the PTPA Winner's Seal on a product package or website helps parents identify products that have been tested and recommended by other parents. It's like shopping with your best friend," says PTPA founder and CEO, Sharon Vinderine.
Since 2008, PTPA has evaluated thousands of products and services from leading manufacturers and emerging brands. Because independent parents evaluate these products in their own homes, PTPA winners are chosen based on merit and consumer experience – not on commercial considerations.
PTPA Media has become a recognized source by the media for credible and reliable recommendations for their audiences. Recognized TV personality, PTPA Founder and CEO Sharon Vinderine has presented PTPA Award winners on over 40 morning shows including the Rachael Ray Show, Fox and Friends and Fox morning shows.
Here are just a few of the innovative new products to receive the PTPA Winner's Seal of Approval for their most recent 2011 campaigns:
So Good soy beverages – The name says it all. These delicious soy beverages come in a variety of flavours: chocolate, strawberry, vanilla. Delicious, but nutritious too!
Fracture Photo Prints –Practical, simple and affordable. Finally get your photos off the computer and on to your walls! Fracture Me helps you easily create your one-piece printed glass photo and frame for a modern décor look for your memories.
WaterWipes – The world's purest baby wipes! Made with 99.9% water and 0.1% fruit extract, these wipes are the ideal choice for newborns and babies with sensitive or irritated skin. WaterWipes are biodegradable, soft and strong.
Yogurty's Self Serve Frozen Yogurt – It's love at first taste. Walk up to their froyo bar and create your personalized edible masterpiece! Your choices are only limited by your imagination. With over 100 flavours and a large array of toppings you'll know you've found your new favourite dessert!
Other wonderful winners include the fun and functional Mama Taco Towel, the mobile cooler Roller Fridge 24, free online family play website Ohanarama, Zapi UV Toothbrush Sanitizer, SunRype's Premium Not From Concentrate Juices, the 4-in-1 aacua towel, the oh-so-fun Box-O-Mania Play Box, a fun and educational You've been Sentenced! game and a computer-simulated archaeological digging game Roman Town.
For a complete list of award winners, visit the newly updated website.
About PTPA Media Inc.
PTPA Media provides an objective framework for appraising and promoting new products designed to enrich family living. The company's mission is to marry innovative companies with discerning consumers, to improve consumer access to quality products and services for their families and homes.
###