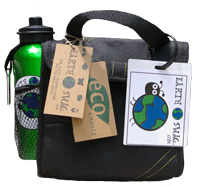 It's environmentally friendly but also great for one-stop shopping.
Basalt, CO (PRWEB) July 11, 2011
Consumers increasingly look for green alternatives to the products they normally buy, and they will pay up to 20% more for a product that they feel benefits the environment in some way. Some observant companies are responding to that trend with green products, and Earth Swag is one such company. They established themselves with reusable snack bags and wraps, and they have recently released a new line of products.
Earth Swag has released an eco-friendly lunch kit, organic cotton t-shirts and a canvas tote. The lunch kit includes a cooler made of 100% recycled plastic bottles, a reusable water bottle, a set of reusable snack bags and a reusable sandwich wrap. This kit provides one-stop, back-to-school shopping for the eco-conscious consumer. The organic cotton t-shirts feature Earth Swag artwork and logo, and they are available in men's, women's and kid's styles. The canvas tote features sturdy, black handles, a black bottom and Earth Swag artwork. It is a great alternative to plastic shopping bags. All of these products provide consumers with green alternatives to their normal purchases, and they do so with a fun, appealing look.
These new products compliment the already available line of reusable snack bags and sandwich wraps. Both the snack bags and the sandwich wraps are food-safe, machine-washable alternatives to plastic bags for packing lunches and snacks.
Free shipping is offered on all products within the continental US.
Earth Swag is responding to consumer demand for green alternatives to every day products, and they are doing it in an appealing, attractive way with whimsical artwork and excellent products.
###