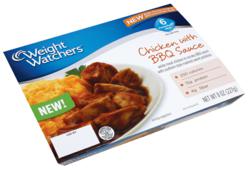 They are great for people on-the-go who want to eat fresh and healthier meals, but don't have the time to cook every meal from scratch. There are 13 different meals in all. And creators are looking for customers' input for the next new meal!
Newburyport, MA (PRWEB) July 12, 2011
Summer is upon us. Fun in the sun. And everyone wants to look good in his or her swimsuit, right? One new, simple strategy for healthier eating and weight loss can be found at local grocery stores – Weight Watchers announces the first mainstream, low-calorie, portion-controlled to-go meals and deli salads in the U.S.
The Weight Watchers product line of refrigerated to-go meals is available at grocery stores' deli and prepared (not frozen!) food sections. Chris Solly, VP Licensed Brands at Greencore, makers of the Weight Watchers meals states, "We offer a wide variety of fresh meals, ranging in flavors and cuisine, featuring many home cooking-type favorites. They are great for people on-the-go who want to eat fresh and healthier meals, but don't have the time to cook every meal from scratch. There are thirteen different meals in all allowing a new variety every day for almost two weeks."
Meals are made with lean beef, white meat chicken and turkey, fresh vegetables, herbs and spices. Entrees include chicken and mushroom Alfredo with fettuccini; meatloaf with garlic mashed potatoes; and chicken with BBQ sauce with southern-style mashed sweet potatoes. Customers now have the option to prepare a fresh, delicious, sensible meal that is ready in just two minutes and is affordable at $1.99 - $2.99 per meal.
There are also six new Weight Watchers Fresh Deli Salads available in consumers' favorite varieties for between $1.99 and $2.99 for 2 servings. Salads include seafood salad in a lemon-dill dressing; chicken salad with dried cranberries; rainbow pasta salad with garden vegetables and potato salad in a creamy mustard dressing; macaroni salad with bell peppers and chives; and coleslaw with fresh carrots and onions.
Chris Solly adds, "As part of our ongoing efforts to give consumers what they want, we encourage them to participate in naming our next new Weight Watchers Fresh Meal. What new meal selection would they like us to add?" The e-mail address to send recommendations is wwinfo(dot)byfield(at)greencore(dot)com. Recommendations will be accepted through August 15, 2011.
Solly, who oversees the development and launch of new products, adds, "We look forward to receiving many great meal ideas. We obviously have our own thoughts on what items to launch next, but it carries more significance if consumers are actively asking for them."
Weight Watchers Fresh Meals and Deli Salads can be found in the 'ready to go' refrigerated areas of the deli or meat sections in nearly all major grocery stores in the Northeast and Mid-Atlantic. They are also available on-line at Peapod.com, and are distributed to many smaller chains and independent retailers in the Mid-West. Information on the thirteen meal varieties and six deli salads can be found at WeightWatchers.com/freshmeals and WeightWatchers.com/delisalads, respectively.
The Weight Watchers PointsPlus® program goes beyond calories, taking into account the energy contained that make up calories – protein, carbohydrates, fat and fiber – and factoring how hard the body works to process them as well as their respective eating satisfaction. Also listed are calories, grams of fat, fiber and protein.
WEIGHT WATCHERS on foods and beverages is the registered trademark of WW Foods, LLC. WEIGHT WATCHERS for services and PointsPlus are the registered trademarks of Weight Watchers International, Inc. Trademarks are used under license by GREENCORE USA. ©2011 Weight Watchers International, Inc. All rights reserved.
About Weight Watchers International, Inc.
Weight Watchers International, Inc. is the world's leading provider of weight management services, operating globally through a network of Company-owned and franchise operations. Weight Watchers holds over 45,000 weekly meetings where members receive group support and learn about healthy eating patterns, behavior modification and physical activity. WeightWatchers.com provides innovative, subscription weight management products over the Internet and is the leading Internet-based weight management provider in the world. In addition, Weight Watchers offers a wide range of products, publications and programs for those interested in weight loss and weight control.
About Greencore USA
Greencore USA is the American arm of Greencore Group PLC, a leading international manufacturer of convenience foods. Established in 1991 in Ireland, Greencore Group PLC manufactures fresh prepared meals, soups, salads and quiches, as well as desserts and cakes. In addition, Greencore Group PLC is the world's leading supplier of fresh prepared sandwiches, producing over 4,000,000 a week. Greencore USA, based in Massachusetts, currently produces a range of fresh prepared meals and salads under the Weight Watchers brand. Additional information is available at http://www.greencore.ie.
Attention media professionals: For product samples, images, or customer testimonials please contact Catherine Bowen Brophy at catherine(at)bowenbrophy(dot)com or 401.258.0077.
# # #