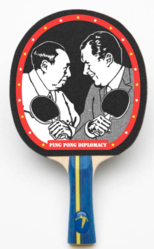 "Table tennis is the most played sport in the world and Ping Pong Diplomacy shows how important ping pong is. This ping pong paddle is a beautiful collector's item that connoisseurs all over the world need to have."
New York (PRWEB) July 08, 2011
Ping Pong Diplomacy is history's most important sporting event, and to celebrate the 40th Anniversary of the 1971 event, Table Tennis Nation is releasing an extremely limited run of paddles featuring Mao and Nixon.
The table tennis matches between 9 American and 9 Chinese players in Beijing in 1971 helped establish diplomatic relations between the US and China and captivated the world while setting the stage for President Nixon's visit to China
Historians, politicians, and fans will have to act quickly as only 40 paddles will ever be made.
"Forty years. Forty paddles. Then it's over," said Marty Reisman, Table Tennis Nation President and 23-time National and International Table Tennis Champion, "Table tennis is the most played sport in the world and Ping Pong Diplomacy shows how important ping pong is. This ping pong paddle is a beautiful collector's item that connoisseurs all over the world need to have."
The front of the paddle features an iconic image of Mao and Nixon with paddles in hand, and the back features an inscription about Ping Pong Diplomacy; each paddle comes with a Certificate of Authenticity signed by Reisman.
The paddles ($200) will be available on TableTennisNation.com, and Table Tennis Nation will also be giving away some paddles via Facebook (facebook.com/TableTennisNation), twitter (@ttnation), and through contests on their blog (TableTennisNation.com/newsblog) through a series of drawings and contests.
To purchase the Ping Pong Diplomacy Paddle head to http://goo.gl/1Oi8K on Table Tennis Nation's website.
Table Tennis Nation is ping pong for a new generation. It's a fresh spin on the game you know and love. The perfect blend of sport meets social, Table Tennis Nation is about having fun, making friends and playing the game that binds us all together. Table Tennis Nation specializes in custom paddles and events for charities, corporations, and players of all ages and abilities. Learn more at TableTennisNation.com
###