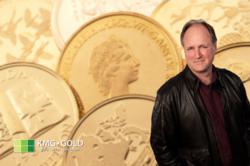 "This is a great program for our customers who wish to ship precious metals and feel secure knowing their shipments will be fully insured against loss."
Winnipeg, Manitoba (PRWEB) July 11, 2011
KMG Environmental Inc. is excited to announce their new insurance program which is designed specifically for shipping precious metals. KMG Gold is the only precious metal recycler or gold buyer to offer shipping insurance that is fully insured and claimable.
Most major carriers offer shipping insurance, but none of their insurance is claimable for precious metal, gems, or bullion. In fact, scrap gold, coins, jewellery, gems etc. are prohibited shipments with some carriers. Most will take your money for insurance, but if your precious metals are lost or stolen you cannot make a claim. In short, you may lose your precious metals and your insurance fee.
KMG insurance is underwritten through the highly trusted and world famous armoured car people. KMG precious metal shipping insurance rates are half that of the major carriers and are fully claimable. Insurance is available up to $50,000 per parcel with the option for more coverage by special arrangement. Watch our video on Real, Claimable Precious Metal Shipping Insurance here.
KMG Gold recycles precious metals, including; gold, silver, platinum, palladium, and rhodium as well as diamonds.
Mike Gupton, KMG Gold's president, says "This is a great program for our customers who wish to ship precious metals and feel secure knowing their shipments will be fully insured against loss."
KMG Gold leads the gold buying industry by making detailed information about precious metals, the current gold buying market environment, and other helpful tips for gold buyers and gold sellers available on their website kmggold.com
For more information on KMG, visit http://www.kmggold.com or call 1.877.468.2220.
Media Contacts: Michael Gupton, President, KMG Environmental Inc., (204) 452.4653
Press Kit: Attached
###