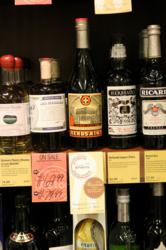 "Astor Wines & Spirits has never used ratings or outside evaluations until now. Paul Pacult has changed the process and we have changed our minds," says Andrew Fisher, owner of Astor Wines & Spirits.
New York, NY (PRWEB) July 11, 2011
Astor Wines & Spirits, one of the most respected names in liquor retailing in New York, has been a Greenwich Village fixture since 1946. It has been very innovative over those years, but the company has never before displayed ratings from outside sources in its store—until now. For the first time in more than 60 years, that has changed. And the reason, according to owner Andrew Fisher? It is the unimpeachable ratings method created by Ultimate Beverage Challenge founder, spirits author/expert F. Paul Pacult. Pacult's groundbreaking ratings process won the attention of Mr. Fisher and Astor Wines & Spirits. And, as a result, Astor has partnered with Ultimate Beverage Challenge to use the ratings from UBC's beverage alcohol competitions.
"Astor Wines & Spirits does not use the ratings of outside evaluators in our store, in our publications or on our website," says Andrew Fisher, the owner of Astor Wines & Spirits. "Nor do we assign any numbers to wines or spirits. Our reasons have been threefold: first, numerical ratings discourage the discourse that should accompany explication of wines and spirits; second, the use of one person's opinion as an arbiter of taste limits the range of palate and understanding that we see as requisite; third, Astor believes that our customers care what we think, as we have made the decision to buy the wine or spirit."
Mr. Fisher went on to say that because of Paul Pacult's impeccable methodology, all of Astor's previous objections to scores have been satisfied. And, so for the first time in Astor's history, they have broken with tradition and now display the ratings from Ultimate Spirits Challenge.
"Paul Pacult has changed the process, and we have changed our minds."
More than 250 spirits that have been rated in both Ultimate Spirits Challenge 2011 and 2010 are listed on the UBC website – http://www.ultimate-beverage.com under the RESULTS tab - with shopping cart icons. Clicking on the icon will take you directly to the Astor page featuring that product. Astor can sell and deliver to 32 states in the US.*
"Our goal at Ultimate Beverage Challenge is to demystify beverage competitions for consumers and make results truly useful to them so they can make better informed purchasing decisions," says UBC founder F. Paul Pacult. "That is why we give ratings using the easily-understood 100-point scale and offer tasting notes for many of our entries. The partnership with Astor Wines & Spirits is the icing on the cake, making it easy for people to see what's been rated tops in their category by the world's top judges and then point, click and buy."
*Astor Wines & Spirits delivers spirits and wines to 32 states throughout the USA except for the following: Alabama, Alaska, Delaware, Kentucky, Maryland, Massachusetts, Mississippi, Montana, Nevada, New Hampshire, New Jersey, North Dakota, Oklahoma, Rhode Island, South Dakota, Texas, Utah, Virginia.
Upcoming UBC News: Kick off the fall holiday season with the ultimate cocktail, spirits and wine consumer tasting event -- Ultimate Blast! Taking place at the Marriott Marquis Hotel in New York City on Friday, October 14, this isn't one of those stodgy tastings but a tasting event in a gala, night-club setting attended by 2,000 enthusiastic consumers, media and trade guests. Ticket information coming soon. Save the date.
The Challenges – Ultimate Spirits Challenge, Ultimate Cocktail Challenge and Ultimate Wine Challenge - have been developed by three industry powerhouses – founding partners Sue Woodley, David Talbot and F. Paul Pacult – who, along with Judging Vice-Chairman Sean Ludford believe that beverage challenges better serve the market when they are based on the 100-point scale (not ubiquitous and over-generous medal distribution), are judged by a panel of expert judges (the top names in their industry) and use an open and transparent judging method (want to know how we judge? Just ask).
ABOUT ASTOR WINES & SPIRITS (http://www.astorwines.com; 212-674-7500; 399 Lafayette St, NYC)
Astor Wines & Spirits' mission is to bring people together around the pleasures of the table. Our collection of wines rivals any in the country, and we offer the most comprehensive selection of spirits in New York City. Rare and natural wines are kept safe in our specially designed, temperature-controlled Cool Room, and we store all sakés in dedicated chillers. The store is powered by cutting-edge green technology: clean-burning natural gas turbines create energy, heating and cooling the building and helping us to minimize our environmental impact. Located in a landmarked historical building, Astor is a family-owned, family-operated, multi-generational business. We have been a fixture in the community since the 1940s, and remain committed to reflecting and upholding the values of our neighborhood.
ABOUT ULTIMATE BEVERAGE CHALLENGE (http://www.ultimate-beverage.com)
Ultimate Beverage Challenge (UBC) provides expert evaluation of spirits, cocktails and wines for producers, importers and marketers through its three innovative annual competitions – Ultimate Spirits Challenge, Ultimate Cocktail Challenge and Ultimate Wine Challenge. UBC hosts a gala consumer, media and trade tasting event, Ultimate Blast, in NYC on October 14, 2011, to showcase the most noteworthy spirits, cocktails and wines.
Ultimate Challenges and Blast inquiries: info(at)ultimate-beverage(dot)com, 1-347-878-6551.
"Like" us on Facebook: http://www.facebook.com/UltimateBeverageChallenge
###