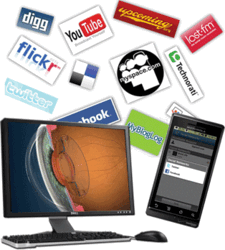 It's a really green and cost-effective way for practices to market.
Baltimore, MD (PRWEB) July 12, 2011
ECHO allows practices to send patient-friendly 3D-animated videos and other media via email and social media. Sending information such as new patient forms, pre-operative instructions, and directions to the office prior to the appointment can help a practice save crucial staff time and ensure thorough communication. In return, patients can then interact with these presentations via the World Wide Web to increase a practice's visibility and drive new clients.
"It's a really green and cost-effective way for practices to market," said Smitha S. Gopal, vice president of product and strategy for Eyemaginations. "This is a simple, automated way of getting information out very efficiently."
Jeff Peres, president and CEO of Eyemaginations, stated, "At Eyemaginations, our primary goal is to arm the healthcare professional with the most effective, up-to-date tools to provide the appropriate combination of education and marketing. Research has shown that two-thirds of doctors are using social media for professional purposes. We are excited to launch a product that meets this demand for social media in the healthcare arena."
ECHO provides healthcare professionals with the ability to:

Engage with patients via email and social media
Reach an entire patient base in just a few clicks
Stay connected with patients through social media, drive follow-up visits with service reminders and promotions, and increase retention by easily communicating complex topics with compelling animations
Grow patient base through referrals by sending information that is always highlighted with practice and contact info as well as products and services
Customize messaging that includes office contact information, logos, and personal media
Build an audience base no matter the size of a practice
For more information on ECHO and the full suite of patient education and marketing products, visit Eyemaginations online on their new website at http://www.eyemaginations.com.
About Eyemaginations
Eyemaginations, Inc. is a healthcare media company focused on solutions that support professionals, patients and corporations in communicating and understanding complex topics. The company's in-depth experience with animation, design and software has enabled Eyemaginations to create integrated systems that provide clear and concise education solutions. Eyemaginations has a portfolio of products that are focused on eye care, ENT, audiology and facial aesthetics. The company has offices in the United States and Europe. Eyemaginations may be reached by phone at 1-877-321-5481, email at info(at)eyemaginations(dot)com or online at http://www.eyemaginations.com.
###