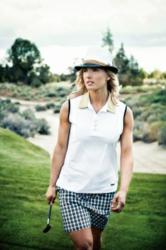 Seattle, WA (PRWEB) July 08, 2011
Growing in popularity and overwhelming demand with each seasonal release, the ANNIKA Collection by Cutter & Buck, named and designed for legendary golfer Annika Sorenstam, will offer three new groups for the Spring 2012 line, the company announced this week.
Here's a closer look:

Gold Dust is a powerful, sophisticated black-and-white group with hits of gold shine. Available in the Gold Dust Polo, Ornament Skort and Gold Standard Polo, the colors are black, white and metallic gold.
Iris connects femininity with technology as it blends purples with inky grey greens. The pattern work is organic and uses reptilian and web-like images. Colors are oxidize (grey green), serephina (orchid), energy (dark grey green) and black.
Prep uses playful patterns such as off-kilter argyles and bold, bright plaids with trend right pieces such as the Acclaim plaid ankle pant and the Preppy polo featuring a hit of plaid on the pocket. Colors are a play of greens, including fairfield (bright kelly green) and poise (vibrant lemon), working back to navy blue. The group gets an extra pop with a touch of silver lurex highlighting key design details.
The line will be available to buyers at the PGA Merchandise Show in Las Vegas, Aug. 23-24.
The Seattle-based apparel manufacturer has enjoyed continued growth in the ANNIKA line since its introduction in 2004. The company also produces a separate women's line under the Cutter & Buck label and is proud to be represented on the LPGA Tour by LPGA players Juli Inkster, Pat Hurst, Sophie Gustafson, Allison Fouch, Reilly Rankin, and rookie Dori Carter.
The Cutter & Buck "team" will be represented at this week's U.S. Women's Open Championship, both on the course and by Sorenstam, who is the Honorary Chair for this year's championship.
For additional information, contact Cutter & Buck at (800) 713-7810 or visit its web site at http://www.cutterbuck.com.
About Cutter & Buck
The company designs and markets upscale sportswear and outerwear under the Cutter & Buck brand. All Cutter & Buck products feature distinctive, comfortable designs, high quality materials and rich detailing. The company sells its products through golf pro shops and resorts, specialty retail shops, corporate sales and online at cutterbuck.com.
###