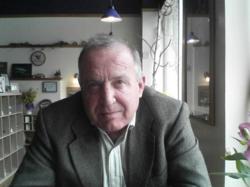 I'm proud to work alongside the site and to help expand its already impressive wealth of information.
Foster City, CA (PRWEB) July 11, 2011
GIBill.com, a site which offers lists of over 22,000 colleges and universities that accept the Post-9/11 GI Bill, is proud to announce that retired Lt. Col. Hal Donahue has joined the site as a features writer specializing in GI Bill benefit spotlights. From 1966 to 1990, Donahue served throughout Europe, Asia and the Middle East, on the staff of the Joint Chiefs of Staff and with the British Royal Air Force.
"We're very excited to have someone like Hal on our team and hope that our readers are just as excited," said Meghan Prober, GIBill.com spokesperson. "Hal brings an enormous amount of military knowledge and overview to the site and he brings several ideas to the table that will do nothing less than benefit readers."
Ideas for Donahue's articles come from conversations he has within the veteran community, as he is very active in both military and veteran issues. Most recently, Donahue reported on the Blue Star Families 2010 Military Family Lifestyle Survey results and how military spouses can get full use out of education benefits, such as the Post-9/11 GI Bill.
"I think GIBIll.com is a great asset for not only veterans, but their spouses and family members as well," said Donahue. "It offers up-to-date and accurate resources and is great for getting GI Bill-related answers in a timely manner. Outreach is a serious challenge and I'm proud to work alongside the site and to help expand its already impressive wealth of information."
For immediate access to Donahue's latest articles, check out GIBill.com's Twitter, Facebook and the GiBill.com homepage.
About GIBill.com
GIBill.com, a trusted resource since 1999, provides in-depth benefits information and news to over 50,000 service members and veterans each month. GIBill.com is committed to keeping members of the military community up-to-date on their Montgomery and Post-9/11 GI Bill benefits as well as provides information on tuition reimbursement rates, the housing allowance, GI Bill comparison charts, and much, much more. GIBill.com is owned and operated by QuinStreet, Inc. (NASDAQ: QNST), one of the largest Internet marketing and media companies in the world. QuinStreet is committed to providing consumers and businesses with the information they need to research, find and select the products, services and brands that best meet their needs. The company is a leader in ethical marketing practices. For more information, please visit QuinStreet.com.
###