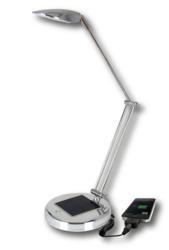 This multipurpose eco-friendly lamp and electronics charger combines style, efficiency, and convenience."
Murrieta, CA (PRWEB) July 11, 2011
HomeSelects International has announced the launch of its patented new product, the Solar LED Task Lamp with Built-In Electronics Charger.
Designed as a contemporary desk lamp, it provides bright, highly efficient LED(light emitting diodes) lighting. The lamp can be charged three ways; with a small solar panel built into the base or via an A/C plug or computer USB. The lamp features a removable, small solar battery pack. This unique design allows you the convenience to take your solar charger with you on the go when you don't have access to electricity. The portable solar charger was designed to charge most cell phones and electronic devices, including the iPhone, iPad, smart phones, cameras and more.
"Our latest innovation is another exciting, powerful example of our commitment to excellence in creating energy efficient products. This multipurpose eco-friendly lamp and electronics charger combines style, efficiency, and convenience," said Terry Oster, President of HomeSelects International. "Our customers have come to trust in our initiatives to create the best possible products that are both good for their families and for the earth."
In addition to the cutting-edge solar LED desk lamp, HomeSelects International features a wide array of energy efficient products. From ceiling fans, commercial lighting, to beautiful home lighting, the company aims to bring quality products to the energy-conscious consumer.
"We stand firm in our mission and our fine line of products," Oster said. "We believe in paying it forward and in doing our best to do the right thing by our customers and our environment. In the process, we help families save money on their energy bills."
HomeSelects International specializes in energy saving lighting and ventilation products. The company's mission is to design, develop, manufacture and distribute superior, innovative products at the best possible prices, while building solid relationships along the way. For more information, visit http://www.HomeSelects.com.
###