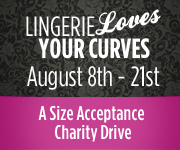 Baltimore, MD (PRWEB) July 11, 2011
Online retailer AboutCurves.com plus size lingerie announces the launch of the first annual size-acceptance and self-esteem blogging charity campaign, Lingerie Loves Your Curves. For two weeks, August 8th – 21st, participants from around the globe will blog about topics in size-acceptance in an effort to combat industries that make money from women's lack of self-esteem.
Plus-size lingerie retailer About Curves is coordinating the blogging efforts. "We're hoping to get a lot of support and to help bring more awareness to these issues," says KC Culver, co-founder of AboutCurves.com. "We'd love to do this again every year."
In addition to blogging, About Curves is also helping to promote the National Association to Advance Fat Acceptance (NAAFA). Since 1969, the NAAFA has been dedicated to ending size-discrimination in all of its forms. The non-profit's goal is to help build a society in which people of every size are accepted with dignity and equality. The About Curves blogging charity campaign helps shed light on these issues by providing an opportunity for individuals to share their own experiences and suggestions.
Blogging participants that raise the most money through their blogging efforts have the chance to win a $200 gift certificate to spend on the AboutCurves.com website. "All women deserve to celebrate their curves, no matter what size they are. The media shouldn't be a reason as to why you don't feel comfortable with your body," continues KC. "It's as if people are oblivious to these messages. I want every blog, website, and Facebook page to be bombarded with messages of size-acceptance."
People may get involved by, (1) promoting the event on their website, (2) donating to the cause, (3) participating in the event, and (4) spreading the word via social media.
To find more information about this event, go to http://www.aboutcurves.com/charity.
About AboutCurves.com
About Curves was started in 2001 by mother-daughter team Robin Bryan-Culver and KC Culver, who were frustrated by the lack of options available to women who do not fit the "model mold." Their mission is to provide women with the ability to feel sexy and encourage women of all shapes and sizes to celebrate their curves.
Every product offered by About Curves is personally approved by a team of discerning shoppers and modeled by plus size women in About Curves' very own photo shoots. About Curves owners pride themselves on their insistence that women should not be made to squeeze their bodies into outfits that are uncomfortable, disrespectful, or poorly made, as is often the case across the apparel and lingerie industry.
RELATED LINKS
http://www.aboutcurves.com/charity
http://www.aboutcurves.com
http://www.naafaonline.com
###