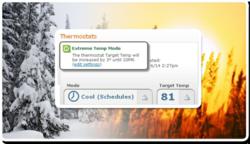 Vienna, VA (PRWEB) July 11, 2011
Alarm.com today announced the release of its new "Extreme Temps" feature, the latest addition to its emPower energy management and home automation platform. Now available to end users through their Alarm.com Authorized Dealer, the Extreme Temps feature can automatically kick in on days with especially high or low outdoor temperatures, enabling consumers to operate their property's heating and cooling systems more efficiently. Extreme Temps is tightly integrated with Alarm.com's proven technology platform and is a free upgrade to emPower Thermostat users.
emPower, Alarm.com's feature-rich and easy-to-use energy management and automation solution, lets consumers automate and control their lights, locks and thermostats remotely from a web-enabled computer or cell phone. Since its release a year ago, Alarm.com has continued to enhance emPower with new offerings including its industry-leading "rules engine", which enables sophisticated and intelligent automation rules to be created through simple web and mobile user interfaces.
With Extreme Temps, customers can easily turn on a rule that will automatically set the target temperature of their thermostats based on the forecasted weather in the area. For hot days, users choose an outdoor temperature threshold between 80 and 120 degrees Fahrenheit. If the local weather forecast predicts temperatures exceeding the customer's selected threshold, Alarm.com will automatically increase their thermostat setting by 1-9 degrees, enabling customers to save money and reduce their energy consumption on days when their air conditioning system is likely to consume a lot of energy. On cold days, the feature works similarly, with a temperature threshold range from -20 to 50 degrees Fahrenheit. Customers can receive email and text notifications letting them know when Extreme Temps are activated, and can opt out at any time by manually adjusting their thermostat.
"We're very excited about the new Extreme Temps feature, which not only helps individual consumers save money by reducing their energy consumption, but also reduces energy consumption at the community level which can help prevent widespread power outages," explained Alison Slavin, Alarm.com Vice President of Product Management. "The platform we've developed can also help utilities that operate Demand Response programs better manage demand for energy during peak usage times."
The Extreme Temps feature is available to Alarm.com authorized dealers and their existing and new emPower customers throughout the United States and Canada. For more information on emPower and Alarm.com's products, services and technology, visit http://www.alarm.com.
About Alarm.com
Alarm.com, founded in 2000, is the industry leading technology provider of interactive security solutions. Through advanced wireless monitoring, mobile and web-based services, and an unparalleled hosted services platform, Alarm.com helps protect hundreds of thousands of residential and commercial customers throughout North America. In addition to offering better security, Alarm.com offers interactive services, video monitoring, emPower™ home automation and energy management, and free mobile apps exclusively through a network of over 2,500 licensed and authorized Security Dealers. Alarm.com's headquarters is located in Vienna, VA. For more information, visit http://www.alarm.com.
###