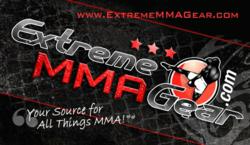 Our advantage is that we care about St. Louis and the Midwest because that is who we are. We actually train with and support mixed martial artist in this region
St. Louis, MO (PRWEB) July 12, 2011
St. Louisans and Midwest MMA fighters and anyone looking for an invigorating workout will have an even better resource to turn to for mixed martial arts training gear, equipment, and fitness apparel. ExtremeMMAgear.com is expanding their product lines of martial arts training equipment, fitness clothing, boxing gear, MMA equipment and more to meet the demands of fighters and fitness buffs in the St. Louis region and beyond.
Fitness buffs, MMA fighters, MMA fans, and the general public can view the expanding mixed martial arts training gear online at http://www.extrememmagear.com. The homepage hosts specials promotions on boxing gear, striking mitts, shin guards, and other products throughout the year. Shoppers can browse the expanded product line by category:

Body protection
Striking mitts
Boxing gear
Training bags
Martial arts training equipment
Training gloves
"ExtremeMMAgear.com is your source for everything MMA," states Damion Lowery owner of ExtremeMMAgear.com.
Other website enhancements include a What's Hot! page with products and specials to help fighters and people interested in getting fit. A new Facebook page is also in progress to help customers network and share information.
"Our advantage is that we care about St. Louis and the Midwest because that is who we are. We actually train with and support mixed martial artist in this region," continues Lowery.
ExtremeMMAgear.com also provides support and development for fighters through mentorship. The Facebook page is a place that fighters can connect with Lowery and others for guidance and advice. Lowery is also affiliated with AdvocareNutritionOnline.com, a supplement line geared to weight loss and building muscle.
To learn more or shop, visit ExtremeMMAgear.com.
About ExtremeMMAgear.com
ExtremeMMAgear.com was created by Damion Lowery, who has been training in mixed martial arts for over four years, specifically Mauy Thai, boxing, juijitsu, and others. He is a U.S. Air Force veteran with a degree in electrical engineering.
# # #