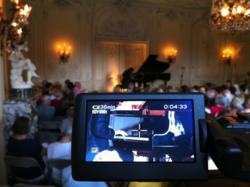 Yamaha strives to continually enhance the viewing experience for this prestigious festival," states Customer Experience Group Director Jeff Hawley.
Buena Park, CA (PRWEB) July 09, 2011
Building on the premiere of last year's highly successful web streaming of select concerts from the venerated Newport Music Festival, this year the Yamaha Customer Experience Group once again leads the industry with a host of innovative technological and mobile media enhancements intended to bring these spectacular events to an even broader audience.
Beyond providing additional broadcasts, this year's coverage will feature higher definition video, along with viewing accessibility on Apple iPhone and iPad devices. Newport 2011 will also feature the historic festival premiere of Yamaha Disklavier RemoteLive technology.
The Yamaha Customer Experience Group will broadcast from sumptuous Newport performance venues, including The Elms and The Breakers mansions. Select material will be streamed and then later compiled for a Best Of broadcast following the conclusion of the festival.
"Yamaha strives to continually enhance the viewing experience for this prestigious festival," states Customer Experience Group Director Jeff Hawley. "Now, leveraging the power of mobile media, we're able to broaden the festival's reach in ways previously unimaginable."
The broadcast is made possible by NewTek's TriCaster 300, which produces and delivers video content over the Internet instantly. A new website platform which utilizes Influxis streaming and Yamaha-designed Paragon tracking and embedding technology enables a new range of broadcast options.
This year, TriCaster will also be used to stream MIDI, video and audio information in conjunction with a beta test of Yamaha's RemoteLive technology, enabling the broadcast of select musical performances live and in real time from a Disklavier performing on-site at the Festival to several off-site Disklaviers nationwide. Select Yamaha retailer sites that will host the performances include Keyboard Concepts in Van Nuys, California and Cunningham Piano in Philadelphia.
From July 7-24, the 2011 Newport Music Festival will present morning, afternoon and evening concerts in the Newport Mansions and other venues in and around Newport. The 43rd season will continue the tradition of presenting unique chamber music programs and American debuts in a festival that has achieved worldwide renown as one of the leading chamber music events. Learn more at http://newportmusic.org.
Classical music lovers can visit the Newport Music broadcast site (http://4wrd.it/Newport) to access a calendar of special broadcast times.
These performances will also be accessible via the Yamaha Hub iOS app, available in the App Store for free. The innovative app – singled out by Apple as a "New and Noteworthy" addition to the App Store at its debut – aggregates data about Yamaha products, promotions, content and events.
Those seeking even more "behind the scenes" access can head over to the official Yamaha Hub Twitter or Facebook pages to see special video and photo posts from all of the Newport Festival concerts and venues throughout the weekend.
A major festival sponsor, Yamaha has provided its high-quality concert and conservatory grand pianos, along with a range of upright and digital instruments, to the acclaimed Newport Music Festival for 24 years. Among the models provided this year are the CFIIIS concert grand piano, the C7 concert grand, the DC7M4PRO and the DCFIIISM4PRO.
For more information, write Yamaha Corporation of America, P.O. Box 6600, Buena Park, CA 90622; telephone (714) 522-9011; e-mail infostation(at)yamaha(dot)com; or visit http://www.yamaha.com/press.
About Yamaha
Yamaha Corporation of America is the largest subsidiary of Yamaha Corporation, Japan and offers a full line of musical instruments and audio/visual products to the U.S. market. Products include: acoustic and digital pianos, portable keyboards, guitars, acoustic and electronic drums, band and orchestral instruments, marching percussion products, synthesizers, professional digital and analog audio products, and innovative technology products targeted to the hobbyist, education, worship, professional music, and installation markets.
# # #