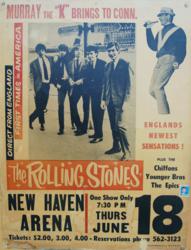 Denver, CO (PRWEB) July 12, 2011
Andrew Hawley, an avid vintage rock concert poster collector, announces his most recent finding, a Rolling Stones concert poster for a concert that was cancelled because of lack of ticket sales and low interest in the newest rock group from England. The concert was to be held at the New Haven Area on June 18th, 1964. The band was popular in England in 1964, but the Rolling Stones tour to America was considered a flop. They group did not have a hit song or record then and were not known to American teenage audiences. This is hard to believe considering the stature and the longevity of the band now.
Hawley found and purchased the poster from someone who had tickets to go to the show along with his girlfriend. Hawley states, "The girlfriend's father worked in the box office at the arena when the show got cancelled. He took the poster and gave it to his daughter and her boyfriend as a souvenir. Not even Murray The K, an influential rock and roll impresario and disc jockey in the 1960s, could help draw enough interest to avoid the show cancellation. The Stones played the same arena a year later and it was a completely different story."
Hawley adds, "In 1965, the Rolling Stones were a huge act with hits like "Satisfaction" filling the airways. Later that year, the Stones had an international number one song - "Get Off My Cloud." It is amazing what difference a year will make with good song writing a couple of hit songs."
Hawley will pay $5,000 for original vintage 1964-1966 Rolling Stones concert posters. Any condition is accepted. Sellers will be paid in cash within 24 hours guaranteed. For more information, go to http://www.vintageconcertposterbuyer.com.
###