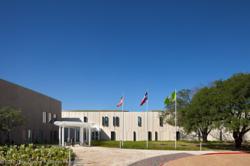 "It is my belief that building owners and developers can play a major role in reducing environmental stress by employing some or all of the sustainable features found in our building." Dr. S. H. Sohmer, BRIT's president and director.
Fort Worth, TX (PRWEB) July 12, 2011
The Botanical Research Institute of Texas (BRIT) is pleased to announce that its new headquarters has been awarded LEED (Leadership in Energy and Environmental Design) Platinum certification by the US Green Building Council(USGBC).
Under the LEED rating system for new construction, BRIT's headquarters was awarded 56 points. USGBC rating system requires a score of 52 or higher to achieve its platinum rating. The headquarters is the first building in Tarrant County to achieve the Platinum rating, the second in North Texas, and the eighth in the state of Texas.
The 70,000-square-foot, two-story building is situated on 5.2 acres. The building's estimated energy savings is approximately $37,000 per year, which is 50 percent higher than energy code recommendations. A key contributor to the impressive energy savings is BRIT's 52-kilowatt photovoltaic system mounted on the roof of BRIT's Archive Block. The system supplies approximately 14 percent of the buildings annual energy requirements. Using captured rainwater from the roof and hardscape, BRIT has reduced potable water usage for irrigation by 95 percent. In addition, by using low-flow fixtures and other water conservation measures in the building it has achieved a 51 percent water savings.
"Everything about our building is focused on conservation and reusing natural resources," said Dr. S.H. Sohmer, BRIT's president and director. "The building was designed and built based on BRIT's mission and core principles of conservation, sustainability, and wise stewardship of the land."
"We are thrilled to receive the news of the Platinum certification," Sohmer said. "It is my belief that building owners and developers throughout the U.S. and around the world can play a major role in reducing environmental stress by employing some or all of the sustainable features found in our building."
The new BRIT building was designed by H3 Hardy Collaboration Architecture, LLC and Corgan Associates, Inc. with campus landscape design by Balmori Associates, Inc. The sustainability consultant was theGreen Team, Inc., and construction was by the Beck Group. The building and campus incorporate a wide range of sustainable features that are reflected in its LEED Platinum rating, some of which are listed below. LEED certification is based on credits earned in five categories: sustainable sites, water efficiency, energy and atmosphere, materials and resources, and indoor environmental quality.
Sustainable Sites – BRIT earned 11 out of 14 possible points in LEED's Sustainable Sites category and included using rain gardens for water runoff, low emissions vehicle parking, restoration of the Fort Worth Prairie habitat as a viable ecosystem, living roof, and using LED site lighting.
Water Efficiency – BRIT earned four out of five points and incorporated a number of innovative water-saving and water-reusing features including a rainwater pond, two cisterns, using indigenous plants, and low-flow fixtures.
Energy and Atmosphere – BRIT earned all 17 points by employing geothermal wells around the building and incorporating a rooftop-mounted photovoltaic system.
Materials and Resources – BRIT earned seven of 13 points using wood from sustainably managed forests like FSC labeled ash, a hardwood certified by the Forest Stewardship Council as responsibly harvested and sinker cypress wood that comes from cypress logs that sank in the Mississippi River over 100 years ago. BRIT also used rapidly renewable materials including bamboo ceiling panels, linen and paper wall coverings, and wool carpet.
Indoor Environmental Quality – BRIT earned 12 of 15 points by designing windows and glazing to allow natural sunlight in more than 75percent of the building.
Innovation and Design Process - BRIT earned all five points for its green education program, potable water savings, habitat restoration, and construction waste management.
About the Botanical Research Institute of Texas
Founded in 1987, the Botanical Research Institute of Texas (BRIT) is an international, scientific research and learning center focused on conservation and knowledge sharing. Based in Fort Worth, BRIT documents the diversity of plant life and conducts extensive research around the world. Current major projects are in Texas, Europe, Peru, and Papua New Guinea. In the last ten years, BRIT scientists have located and described scores of species previously unknown to science.
BRIT's herbarium, a collection of more than one million dried plant specimens representing much of Earth's plant diversity, is among the largest in the United States and is the largest U.S. herbarium not part of a university, botanical garden, or broader natural history museum. Some specimens date back to the late 1700's. BRIT's library houses more than 125,000 volumes of books, periodicals, and journals from more than 100 countries.
BRIT's collections-based research provides information for conservation purposes and is a resource for research scientists, students, teachers, plant enthusiasts, gardeners, hospitals, and many others. BRIT's plant collections and educational programs are open to the public to help fulfill our mission to achieve public understanding of the value that plants bring to life.
In the spring of 2011, BRIT moved into its new, sustainable, and energy-efficient headquarters located in the Fort Worth Cultural District. The official grand opening was held on May 21, 2011. BRIT is open to the public Monday through Friday from 10 a.m. to 5 p.m. and on Saturday from 10 a.m. to 2 p.m. BRIT.org
###