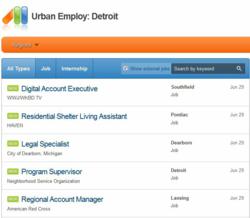 Urban Employ helped me get three internship interviews in a week
Detroit, MI (PRWEB) July 09, 2011
Urban Employ at http://urbanemploy.com has revamped its website to serve as a comprehensive medium for businesses, nonprofits and governments to recruit talent.
Having reached out to college and university career services, Urban Employ attracts talent from top schools across the country. Employers can post internships for free and only pay $25 per job credit, which is hundreds of dollars less than other employment listing websites.
Urban Employ has redesigned its user interface to make it easier to use and avoided impediments like extraneous fees, complex user interfaces, and pop-up advertisements that make job searching difficult and sometimes outright annoying.
Urban Employ does not charge job and internship seekers a fee to register, to fill out their candidate profile, to upload a resume or to apply for a position. To find out more information, visit http://www.urbanemploy.com
###