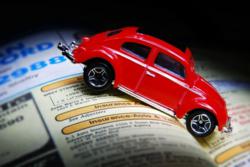 "We have seen far too many families suffer needlessly following an accident caused by another because the policy they believed would protect them does no such thing. It is time consumers are made aware that, for minimal expense and effort, they can have a
Baltimore, MD (PRWEB) July 10, 2011
Marc G. Snyder and Jobeth Bowers of The Law Offices of Marc G. Snyder announce the release of their book, The Client's Guide to Buying Auto Insurance in Maryland. The authors reveal how consumers lack the knowledge necessary to buy auto insurance and, as a result, are making costly and devastating mistakes. Messrs.' Snyder and Bowers expose how insurance companies are knowingly leaving their consumers vulnerable to the devastating losses that accompany unforeseen emergencies. This book exposes this practice and offers a simple and inexpensive solution.
"We have seen far too many families suffer needlessly following an accident caused by another because the policy they believed would protect them does no such thing. It is time consumers are made aware that, for minimal expense and effort, they can have a policy that will truly protect them and their loved ones."
Marc G. Snyder, Esquire
For a limited time, a FREE electronic copy of the book may be requested at http://www.marylandinsurancebook.com. Other formats are available at all local and online booksellers.
###