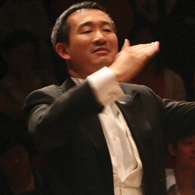 Ken's passion as an educator and enthusiasm as a conductor will help us continue to attract and develop the best young musical talent in the greater Baltimore area.
Baltimore, Maryland (PRWEB) July 11, 2011
The Greater Baltimore Youth Orchestras are proud to announce the appointment of Ken Lam as Music Director.
Mr. Lam was Assistant Conductor of the Cincinnati Symphony Orchestra and Conductor of the Cincinnati Symphony Youth Orchestra, and is currently Resident Conductor of the Brevard Music Center in North Carolina. He has also been appointed Orchestra Director at Montclair State University, beginning this fall. Most recently, Mr. Lam is the 2011 winner of Memphis Symphony Orchestra International Conducting Competition.
Ken is no stranger to Baltimore, earning his M.M. in Orchestral Conducting from the Peabody Conservatory of Music and serving as Assistant / Cover Conductor with the Baltimore Symphony Orchestra and the Baltimore Lyric Opera. Mr. Lam's recent production of Massenet's Manon at the Peabody Conservatory was hailed by the Baltimore Sun as "among the best Peabody Opera ventures, overall, of the past decade."
"Ken's passion as an educator and enthusiasm as a conductor will help us continue to attract and develop the best young musical talent in the greater Baltimore area" notes Jeff Zoller, GBYO Board President. "We couldn't be more excited about this upcoming season."
Ken Lam
Mr. Lam was a featured conductor in the League of American Orchestra's 2009 Bruno Walter National Conductors Preview with the Nashville Symphony and made his US professional debut with the National Symphony Orchestra at the Kennedy Center in June 2008 as one of four conductors selected by Leonard Slatkin. Last season he gave concerts with the Hong Kong Philharmonic, the Hong Kong Sinfonietta, and the Taipei Symphony Orchestra. He was Principal Conductor of the Hong Kong Chamber Orchestra from 2001-2007.
In opera, he regularly directs productions of the Janiec Opera Company at Brevard and was Assistant Conductor at both Cincinnati Opera and Baltimore Lyric Opera. He has also been Assistant Conductor to Lorin Maazel at the Castleton Festival for two seasons.
Active in choral music, Mr. Lam has been Artistic Director of Hong Kong Voices since 2000 and directed the choral program at the University of Hong Kong for three years before moving to the US in 2005.
As Resident Conductor of Brevard Music Center he works with all of their orchestras and collaborates with faculty and students of the composition department regularly.
His conducting teachers are Gustav Meier, Markand Thakar, Marin Alsop, and Edward Polochick at Peabody Conservatory. He studied with David Zinman and Murry Sidlin at the American Academy of Conducting at Aspen for three summers and was nominated for the Aspen / Glimmerglass Opera Prize. He was also a two-time fellow at the National Conducting Institute studying with Leonard Slatkin.
He read economics at St. John's College, Cambridge University and was a practicing solicitor specializing in asset finance for ten years with the international law firm Clifford Chance. He was a director and manager at the classical label Naxos.
He is also a keen golfer and tennis player and was a past president of the Cambridge University Chinese Society.
Greater Baltimore Youth Orchestras
The mission of the GBYO is to inspire and nurture the talents of students, from young children through college age, through a continuum of opportunities in music - including orchestral training, the pursuit of artistic excellence, and sharing music at the highest level through public performance, including a season finale concert at the Meyerhoff Symphony Hall in Baltimore - yielding lifelong rewards of discipline, perseverance, responsibility to a common endeavor, and a connection to great music.
In addition to the orchestras, GBYO offers music instruction to Baltimore city students through the "Bridges" program. Students receive small group lessons on violin, viola, cello, bass or harp twice each week with highly qualified teachers, are provided with an instrument, and meet weekly for string orchestra training and rehearsals. Bridges students conduct two performances each year. Bridges students and families are invited to attend all GBYO performances at no charge to hear, observe and learn from GBYO's more experienced students.
Bridges classes are currently held in eight Baltimore city schools. After students complete the two- to three-year Bridges program, they are assisted in finding continuing instruction, invited to join the entry level orchestras, and are loaned an instrument for use as long as they continue to participate in the orchestra of the GBYO.
###