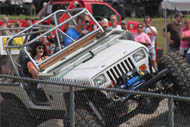 Columbiana, OH (PRWEB) July 12, 2011
4Wheel Drive Hardware, the nation's largest mail order and Internet distributor of Jeep parts and accessories, will host its annual Jeep Jamboree on July 22-23. The event will be held at 4Wheel Drive Hardware, on 44488 State Route 14 and Columbiana, Ohio. Showroom doors open at 9:00 a.m. on both days.
The Annual 4Wheel Drive Hardware Jamboree celebrates the Jeep lifestyle with a vendor midway, parade, Jeep obstacle course, product discounts, prize drawings, and more. Jeep owners can browse the latest Jeep and off-road accessories in the vendor midway, which opens at 1:00 p.m. on the first day of the event. Also on Friday, attendees can watch or even participate in the Jeep parade, which is scheduled for 6:00 p.m. Those who want to participate in the parade should arrive an hour earlier at Firestone Park, 347 East Park Avenue, at 5:00 p.m. Advance registration is not required for parade participation. Each parade participant will receive a ticket for the parade prize drawing (one per Jeep), to be held at 8:30 p.m.
On Saturday, July 23, the event really takes off with additional prize drawings, an obstacle course, and a "Show & Shine" contest. The mud pit and rock crawling obstacle course will be open from 10:00 a.m. to 6:00 p.m., and the Show & Shine will be judged at 4:00 p.m. Plus, vendors and Jeep club representatives will be on site all day. Attendees will also have access to exclusive product discounts, including special deals on tires and wheels.
Admission to the Jamboree is free on Friday. On Saturday, admission is $5 for adults and free for children. For more information and the complete event schedule, please visit http://www.4wd.com/jeep-events/jamboree.aspx
4Wheel Drive Hardware offers competitive pricing on Jeep lift kits, Jeep Wrangler accessories, performance products, winches, and other Jeep parts and equipment. The company recently relaunched the 4WD.com website to make it easier than ever for Jeepers to find the products they need at affordable prices. For more information, visit 4WD.com or call (800) 555-3353.
About 4Wheel Drive Hardware: About 4Wheel Drive Hardware: 4Wheel Drive Hardware has been a leading provider of Jeep tops, lift kits, tires, and other Jeep parts and accessories for more than 30 years. 4WD.com has the parts and products needed for any personal Jeep project.
###